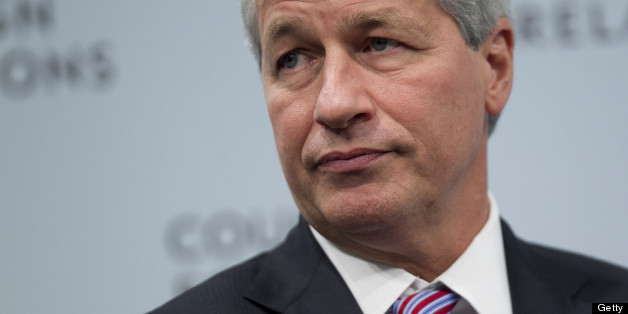 JPMorgan Chase is in another pickle, one that reportedly could cost it a billion dollars.
The Wall Street Journal reported on Wednesday (subscription only) that the biggest U.S. bank by assets is close to cutting a deal with the Federal Energy Regulatory Commission (FERC), which would have JPMorgan paying a record fine of possibly "close to $1 billion" to settle charges of manipulating energy markets in California and Michigan in 2010 and 2011, respectively. Such a fine would be fairly easily absorbed by JPMorgan, which earlier this week reported a quarterly profit of $6.5 billion.
The FERC investigation into energy-market manipulation, with its echoes of the Enron scandal, has been ongoing for at least a year. FERC claims that JPMorgan traders tricked wholesale power dealers in California and Michigan into paying too much for energy, which may have raised overall electricity costs by $83 million.
FERC notified the bank in May that it could face a regulatory action, and that targets could include the bank's commodities head, Blythe Masters, most famous as the inventor of the credit default swap.
JPMorgan has denied any wrongdoing, but the WSJ reports that "there is now a strong movement within J.P. Morgan to get a deal done quickly amid heightened regulatory scrutiny on several fronts." It is not clear from the report whether Masters or any other individuals would be involved in any settlement.
News of the JPMorgan deal comes a day after the FERC made similar accusations against the British bank Barclays, say it manipulated California's energy market between 2006 and 2008. In that case, FERC wants Barclays to pay a $435 million fine and cough up another $34.9 million in what it calls ill-gotten profits, along with $18 million from former traders. The British bank, which last year paid $453 million to U.S. and U.K. regulators to settle charges it manipulated the short-term interest rate known as LIBOR, is fighting FERC's charges.
JPMorgan, coincidentally, is also one of the many banks in the U.S., U.K. and Europe still under investigation in the LIBOR scandal -- just one of the many regulatory headaches dogging the bank recently. Most famously, JPMorgan lost $6.2 billion last year with bad trades on credit derivatives made by a trader known as the "London Whale." That led to a Senate investigation that accused the bank of hiding information from regulators and investors.
BEFORE YOU GO
PHOTO GALLERY
10 Banks Foreclosing on the Most Homes