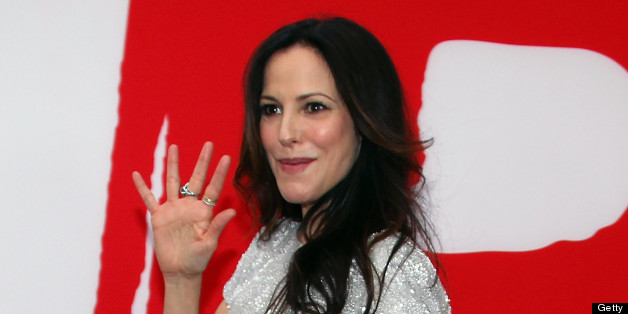 Fans of Mary-Louise Parker could enjoy quite the double-feature this weekend.
In "R.I.P.D." (out Friday), the 48-year-old actress stars as Proctor, superior to a pair of undead law enforcement officials (played by Jeff Bridges and Ryan Reynolds); in "Red 2" (also out Friday), Parker reprises her role of Sarah, the romantic foil to retired CIA operative Frank (played by Bruce Willis). A sequel to the 2010 sleeper hit, "Red 2" puts Parker's character Sarah in the thick of the action, and allows the Emmy- and Tony-award winning actress to get involved in the explosive fun. (Fortunately, there are many explosions in "Red 2.")
Before the film's release, Parker spoke to HuffPost Entertainment about her new career as summer action star, how Hollywood has evolved for actresses, and what she remembers most about "Bullets Over Broadway."
This is the summer of Mary-Louise Parker. You have two blockbusters coming out on Friday.
Isn't that weird? It's funny. I know. I wouldn't expect to see me [in movies like that]. It just worked out like that. Honestly, I don't see the movies once they're finished. I don't pay that much attention to them. I'm always happy for the work and grateful; it's not like I had a bad time. Once they come out, though, I've already moved on by then.
You don't like watching yourself onscreen?
I don't. I wish I did. I know actors who are really good at it, and who really enjoy it. Maybe that'll happen to me at some phase in my life. Meryl Streep's make-up artist was telling me, "We need to make you more like Meryl. She loves to watch herself." I thought, "Oh, that's so cool. I wish I were like that."
Why aren't you?
I don't know. It's just never good enough. It's just never going to be good enough. I'd rather live in the fantasy that they used my best takes from the day and that I did my best job.
The first "Red" was a sleeper hit. It had a very long tail in theaters and then did great on DVD and VOD. When did you first notice that it was connecting with audiences?
I remember I saw [producer] Lorenzo di Bonaventura on an airplane and he told me a lot of people saw the movie. I was like, "Really?" He said a lot of people had rented it and watched it. I thought that was great; "Red" was kind of unusual and it was about a bunch of older people, especially for movies. It wasn't a bunch of young movie stars. I thought that was really cool.
Dean Parisot replaced Robert Schwentke on "Red 2," but then you also worked with Robert again on "R.I.P.D." How did they compare?
It had a very different vibe. I know Robert quite well. Robert is a real perfectionist, and Dean sort of thrives on making it fresh and in the moment. People just kind of come up with stuff on the fly. It creates a calm, nice atmosphere where people feel confident. Robert's a perfectionist and he had boundless energy and amazing ideas. They're both wonderful, they're just polar [opposites].
The relationship between Frank and Sarah is obviously the key of the film; I feel like you bring out something in Bruce Willis that he maybe hasn't gotten to show onscreen in a while: he's very adept at romantic interplay.
I think that comes really naturally to him, actually. I think he has an amazing facility for that kind of comedy, and he has a real appreciation for it too. He actually gave me a copy of "Palm Beach Story" and "The Lady Eve" when we were working, because we were always talking about 1930s screwball comedies. He's so charming himself and he's really able to access that when he's acting. He has a sweetness and a silliness that, I guess, you don't always see if you're just watching the bigger, "Die Hard" kind of things. I don't know if those movies enlist those parts of him so much.
You've played a lot of strong female characters in the past. Do you find the roles you're being offered are getting better?
That's true on television. They're not afraid to create a show around a woman and they're free to let her be flawed. I don't know as much about the movies. I think a lot of times in movies, there's still a really big market for the 20 and under crowd. I think in general though, it has gotten a little better for women. But I've always felt really lucky; I never felt like I was reaching for something and wasn't allowed to do it.
You worked with Woody Allen on "Bullets Over Broadway"; what do you remember about that experience?
I remember I loved John Cusack. I always thought he was a great actor, and thought he was amazing at accessing himself and his own particular charms. He's a really smart guy. He's what I remember from that movie. That, and that I had to wear a really itchy turtleneck in a bunch of scenes. I don't really remember much else.
PHOTO GALLERY
'Red 2' Premiere Photos