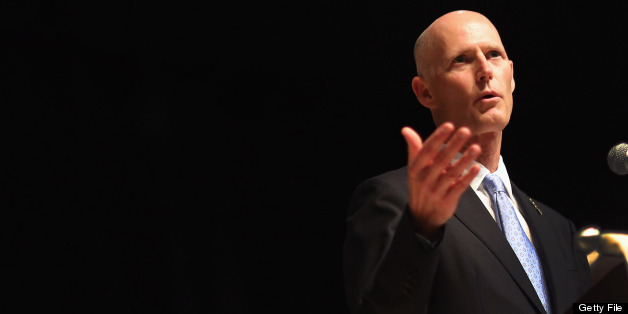 In the eyes of Florida's future House Democratic leader, Gov. Rick Scott's voter fraud allegations probe is unresolved.
Rep. Darryl Rouson (D-St. Petersburg) issued a letter Tuesday afternoon, prodding House Speaker Will Weatherford (R) to dive into a "superficial review" conducted by the Florida Department of Law Enforcement (FDLE), the Associated Press reported. Rouson added that Weatherford needs to "not stand witness to this fraud," according to the Miami Herald.
When asked at a late June news conference about whether he would follow up on the FDLE investigations, Scott limited his answer to a flat "no."
Back in September 2012, the Republican Party cut ties with Strategic Allied Consulting over voter fraud allegations centered in three Florida counties. NBC News reported that an elections supervisor discovered more than 100 registration forms in question, including possible phony signatures and addresses.
According to the Tampa Bay Times, the Strategic Allied Consulting case was closed in January, with employees admitting to forgery and serving only probation thanks to a clean criminal past. Yet, the Florida Department of Law Enforcement investigation was closed before supervisors of the employees were questioned, the paper noted.
A second case involving 16 questionable forms in the Fort Myers area was closed in June, with 11 found to be fraudulent, the Miami Herald reported. But no arrests were made due to a lack of evidence, witnesses and access, according an FDLE report cited in the Herald piece.
BEFORE YOU GO
PHOTO GALLERY
Rick Scott Controversies