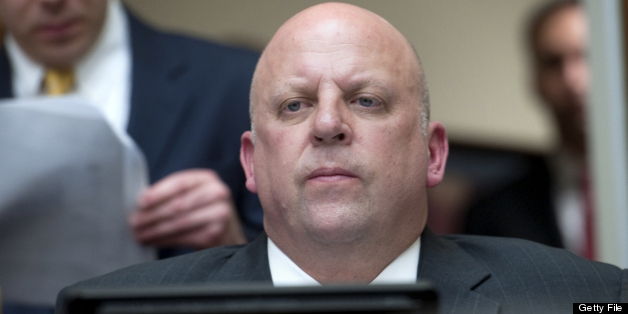 Nine months removed from questionable private-life events entering the public sphere, Rep. Scott DesJarlais (R-Tenn.) is already facing an uphill 2014 battle.
The Chattanooga Times Free Press reported Tuesday that DesJarlais raised $39,153 during the 2013 second-quarter fundraising period. That's more than seven times less than the $303,000 April-June haul for state Sen. Jim Tracy (R), who is running against DesJarlais for the 4th district seat.
According to Roll Call, Tennessee state Rep. Joe Carr also eclipsed DesJarlais with a $100,000 total. Despite both challengers besting DesJarlais' bank account, a source told Roll Call the incumbent remains "confident he'll win."
DesJarlais cruised to reelection in November 2012, defeating Democratic challenger Eric Stewart by nearly a dozen percentage points. Voters looked past the anti-abortion congressman's admission that he engaged in four flings during his divorce, while pressuring one mistress to have an abortion. Less than two weeks after re-election, court transcripts also showed that DesJarlais' wife had two abortions -- one for medical reasons and another on an elective basis.
By early December, DesJarlais appeared convinced that his scandalous past was in the rear-view mirror, telling a conservative radio show that God had "forgiven" him.
"As far as where I stand on pro-life [issues], I feel I have been very solid in my views," DesJarlais told conservative talk show host Ralph Bristol "I don't think, Ralph, that I implied that there was nothing in my past. I didn't go back and dig up all my personal shortcomings and display them. I went through this divorce a long time ago. I made a very poor decision in my first marriage. I know God's forgiven me."
BEFORE YOU GO
PHOTO GALLERY
10 Dumbest Excuses for Political Sex Scandals