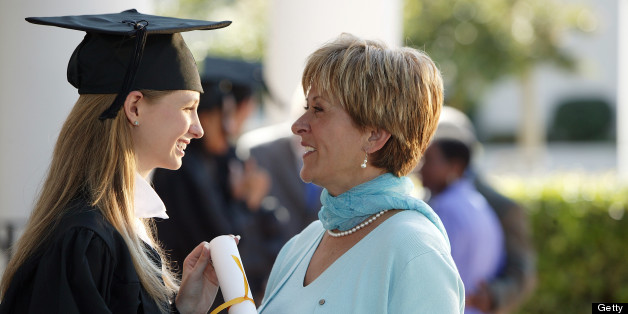 When you aren't on the best terms with your partner's former spouse, even something as innocent as a kid's birthday party or school graduation can become a battlefield.
That's what we were reminded of after reading ModernMom.com blogger Dani Alpert's piece on the efforts she took to score a ticket to her boyfriend's son's graduation after hearing from her boyfriend's ex-wife that tickets were for family only.
Alpert said she initially brushed the slight off, but eventually called the school to see if any extra tickets were available -- though not before giving some careful consideration to the reasons why the ceremony was important to her.
"I wanted [my boyfriend's son] to know that I cared and that this was what significant people in his life do," she wrote. "I've been around for seven years and although we only see each other every other weekend, I am significant. I know that as a 14-year old, he's probably not processing things like I am, or at all, but perhaps down the road, he'll remember that the girlfriend mom was there."
Alpert eventually scored a ticket and said that all sides got along at the ceremony ("You would've thought that we were besties," she wrote), but we knew her ordeal wasn't unique. With that in mind, we asked our readers on Facebook and Twitter to tell us if they thought it was ever OK to exclude a stepparent from a family event. Click through the slideshow below to see what they had to say, then weigh in with your thoughts in the comments.
PHOTO GALLERY
Is It OK To Exclude Stepparents?
Keep in touch! Check out HuffPost Divorce on Facebook and Twitter.