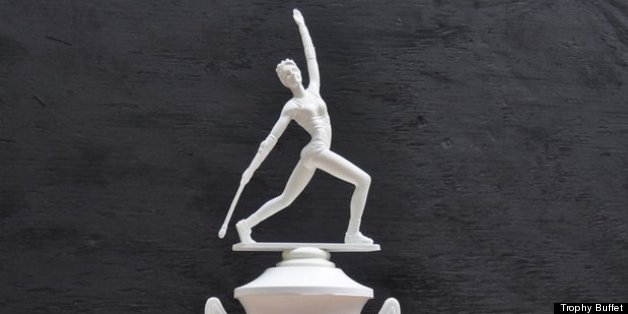 Ever wish your coming out moment could've been a little... easier? What if you could have told your parents with a card or a... trophy?
That's the thought behind Trophy Buffet's new Kickstarter featuring trophies for special occasions... including coming out of the closet.
Customers can choose from a variety of trophies, including statuettes that read "#1 MILF" or "Trophy Husband," with the idea being that instead of the usual flowers or other tokens of affection, they can give their loved ones a unique memento of an occasion.
Alon Seifert, one of the designers at Trophy Buffet, spoke with The Huffington Post about their unusual concept. Seifert explained, "The idea for our project is to celebrate life, be it a mundane event, or just the simple fact of celebrating who you are as person." He added, "A trophy is for all to see, it's a reminder of a happy achievement, of a victory, big or small. Our trophies are a fun take on the sometimes too-serious sports trophies, as we believe humor is the great connector."
"Celebrate Something" is the tagline for the company and why not celebrate coming out with a trophy that reads, "Mom, Dad, I'm gay" and is adorned with a baton-twirling gymnast? The gay-friendly company even went as far as awarding the Supreme Court a "#1 Supreme Court" trophy on the day they overturned the Defense of Marriage Act.
Click here to check out the company's Kickstarter campaign and reserve your own trophy, so not only will your parents discover they've got a gay child, they'll also get a nice permanent reminder of the momentous event. And for more info on Tropy Buffet, visit its Facebook page.