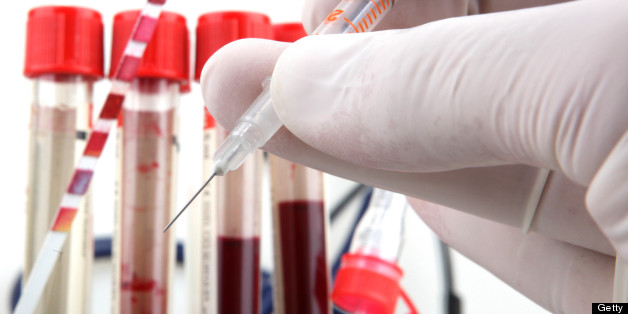 A blood test could one day provide a fast, inexpensive way for multiple sclerosis patients to assess the effectiveness of their medications and track disease flares.
While the test is still years away from market, the new biotechnology may prove invaluable for people with multiple sclerosis (MS), a degenerative disease that affects the brain, spinal cord and optic nerve, causing disability, chronic fatigue and pain, among other symptoms. Currently, doctors and patients rely on MRIs, which are expensive and time-consuming, to evaluate the progress of MS and the effects of treatment.
More from Everyday Health:
Intertrigo: The Under-Breast Infection Connection
Michelle's Story: One Woman's Experience With Atrial Fibrillation
'Death Talk' Difficult on Both Ends of Stethoscope
"You can't just walk in and say, 'Hey I'm here.' You have to schedule [the MRI], and somebody has to read it," said Carolyne Reed, 62, a real estate agent in Tuscon, Arizona who was diagnosed with MS in her late forties.
"I'd rather know sooner rather than later," Reed added, acknowledging that MRI results take time. "The not knowing, the constant feeling of being in limbo is very, very difficult."
Researchers at the University of California, San Francisco, and the Stanford University School of Medicine have identified a blood biomarker called TOB1 that they believe points to MS disease activity, according to a study published in the June edition of The Journal of Experimental Medicine.
TOB1 is only one MS biomarker out of many possibilities. When the immune system begins to attack the brain or the central nervous system, it creates inflammation, which can be picked up in a blood test. Biomarkers can also point to debris left in the blood after an MS relapse. The more damage inside the body, the stronger the presence of a biomarker on the test.
An Easier Way to Monitor MS?
A biomarker, in the simplest terms, is something that can be precisely measured within the body, said Sergio Baranzini, PhD, a molecular geneticist at the University of California, San Francisco. Biomarkers like cerebrospinal fluid, blood, urine, saliva, stool and tears play a role in diagnosing and tracking a host of illnesses, from strep throat to HIV and cancer.
"All these bodily fluids contain information about a disease process," Dr. Baranzini said. "The trick is to correlate the production of this substance and the disease process that we're trying to track."
And that's what makes research so challenging a shortage of qualified doctors. A blood test would be simple to schedule at any laboratory and provide faster results.
"A couple weeks is a while to struggle with something and wonder if it's going to be this way forever," Reed added.
To Be Effective, a Blood Test Must Outperform MRI
In order to make a difference for people with MS, any new blood test must outperform the MRI. If a blood test is less expensive and more convenient, but no more accurate than an MRI, there's no reason to transfer over, said Thomas Stewart, a physician assistant at Rocky Mountain Multiple Sclerosis Center.
"You got this blood marker showing inflammation? So what?" Stewart said. "That doesn't really get us very far. We've already got some markers for disease activity, you've got MRI. You have to be more sensitive than that."
"The blood biomarkers would be a big advance, [but] it's a little bit of a pipe dream right now," Dr. Bermel said, agreeing with Stewart's assessment. "Right now we don't have MS divided into sub-types enough to create a blood test like that."
If it lives up to it's potential, an MS blood test would reduce some of the financial burden, and the wait time, of treating multiple sclerosis. And though it's not on the market yet, Barazini said the technology should be available within a decade.
"I think it [would give] you more control over a lot of aspects of your life," Reed said. "It is very difficult trying to live every day not knowing if the sword is going to fall on your head. This [test] can take some of the unknown out of it."
"Blood Test Could Soon Track MS" originally appeared on Everyday Health.
BEFORE YOU GO
PHOTO GALLERY
Famous Faces Touched By MS