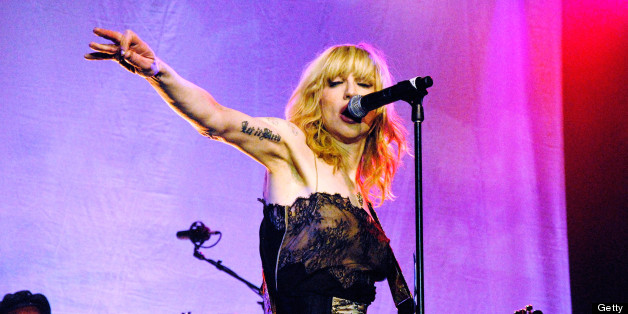 Courtney Love has a Christmas present for her fans: a new album, hitting stores on Christmas Day.
Tentatively called "Died Blonde," Love's second solo studio album will arrive on Dec. 25, 2013. "It sounds epic. It's amazing," Love told Canada publication Canoe. "It's great. But it's really hard work."
"I'm thinking of maybe naming my f--king album 'Died Blonde,' because I'm in such a morbid space," Love told Bust in May. "You know what I mean? It's not that I'm unhappy. And it's certainly not that I'm crazy. It's just that I know all this shit, and I don't know what to do with it."
Love released her first solo studio album, "America's Sweetheart," in 2004. The album never quite took off, hitting No. 53 on the Billboard 200. In the years since, Love has released a 2010 album, "Nobody's Daughter," with her rock band Hole, performed various live sets, and appeared as a featured artist on tracks including Fall Out Boy's "Rat a Tat" off of the band's recent "Save Rock and Roll" album.
Love announced that the project will be released on Christmas to coincide with the debut of her upcoming autobiography, due out in December. "I never thought I would write this book," Love said in the interview with Bust. "It's f--king exhausting."
Love is currently on tour, hitting cities across the U.S. and Canada. Check out Love's upcoming tour dates below.
July 18: Chicago, Ill.
July 19: Detroit, Mich.
July 20: Toronto, Canada
July 22: Vancouver, B.C.
July 23: Seattle, Wash.
July 26: Agoura Hills, Calif.
July 27: Anaheim, Calif.
August 2: Houston, Texas
August 4: Dallas, Texas
August 22: Las Vegas, Nev.
August 23: Las Vegas, Nev.
PHOTO GALLERY
Courtney Love's Style Evolution
BEFORE YOU GO