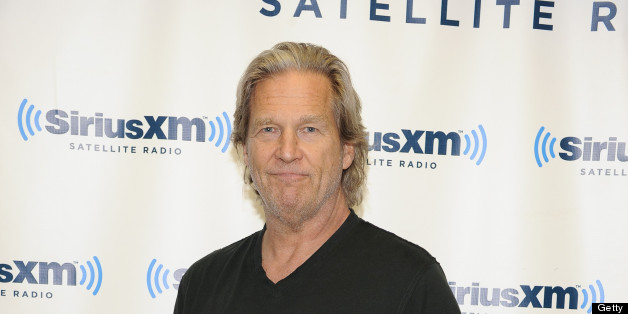 Jeff Bridges looks like he's having a lot of fun in "R.I.P.D.," a new comedy that stars the Oscar-winning actor and Ryan Reynolds as a pair of deceased detectives tasked with keeping evil spirits from causing the apocalypse. At one point in the film, Bridges' Old West lawman picks up an accordion and performs a song (co-written by Bridges, T Bone Burnett and "R.I.P.D." screenwriters Phil Hay and Matt Manfredi) that includes lyrics about a coyote having sex with his skull. Later, Bridges' goatee is bitten by Mary-Louise Parker. (It's as weird as it sounds.)
That Bridges would star in a summer blockbuster like "R.I.P.D." might seem out of character, yet one look at the 63-year-old's resume shows that it's anything but an anomaly. Bridges, after all, is a performer who can float comfortably between comedy and drama, acting and singing -- he released an album of songs in 2011 and hopes to release more in the future. In fact, the only thing Bridges hasn't really mastered is social networking.
"I don't even know what Instagram is," Bridges, who is also a published photographer, told HuffPost Entertainment. "All of this high-tech stuff is supposed to set us free and make life easier. To me, it makes it more difficult and demanding." (Bridges does have accounts on Twitter and Facebook.)
With "R.I.P.D." out on Friday, Bridges spoke to HuffPost Entertainment about the film, what he thinks is missing from Hollywood, and what he thought of 1980's "Airplane!," which memorably co-starred his father, Lloyd Bridges.
You're really the comic relief in this movie, which might surprise some people. Is that part of the reason why you wanted to sign up in the first place?
Yeah, absolutely. I love doing comedy whenever I get a chance. This premise was so whacked out and kind of crazy, so I thought it would be a fun summer movie. I have pretty much felt like I could do whatever I want from the beginning. That was my M.O.; I kind of resist going to work as much as possible unless it's something that really turns me on for one reason or another.
What turned you on about this?
Well, the fact that it was so bizarre. I remember when someone pitched me the project, I couldn't quite grasp what they were talking about. Then I read the script and I had to keep going back a page or two and saying, "Did I just read what I read?" It's so bizarre! I'm attracted to things that are bizarre. Those are the kind of things I like to watch.
You seem to have a good rapport with Ryan in this film as well.
We got along so well. Chemistry is kind of hard to fake. We just hit it off for real as soon as we met each other and had a great time making this movie. He does a great job in this: he's got not only all the comedy stuff, but the romance, the drama and the action. He does all that very well, I'd say.
Ryan does do a lot of things very well, but he's had some misses in recent years with "Green Lantern" and "The Change-Up." You have so much experience in the industry, did you ever think of offering him any career advice?
No, we just had long conversations about all kinds of things. We've had a really good chance to hang out with this. We talk about work and career, all kinds of stuff. But he's made some wonderful films and he's got a great career going, so it's not like I'm giving him a lot of advice. I don't have anything to share!
Your first film role was in 1970. What have you noticed about how filmmaking has changed over the last 43 years?
The big change is that they're no longer making film cameras. Panavision has stopped making film cameras. So it's all digital these days. You're getting a lot more CGI stuff. For some reason, they seem to be making more of these tentpole movies with $200 million budgets. I can't quite figure it out, but I guess that makes more sense financially. So, we get different versions of the same $200 million movie. Then, in reaction to that, I think you get some very good, low budget films. I remember I was so impressed with "Once" from a few years ago. I really enjoyed that. I think they made that for about $100,000. I thought that had great bang for its buck. What's missing now, though, is those kind of middle-budgeted movies. They're kind of hard to get off the ground. That's kind of a shame.
You're 63 now. Have you given any thought about what you'd like the next decade of your career to look like?
I don't have too many plans filled out. I know I want to keep doing more music. I've got a couple of albums worth of songs I'd like to put it out there. As far as movies, I just want to continue how I've been doing it: working with terrific people is certainly on my agenda, and then doing stories that interest me. I'm not one of those guys who thinks, "I've got to make George Washington." I don't think that way; I'm more of a counter-puncher.
When your father was 67, he made "Airplane!" Do you think the way he shifted his career influenced you at all?
No, I like shaking it up. My father did "Airplane!" and then a few comedic roles after that. When I was doing [1994's] "Blown Away," though, I was talking to the producer before the movie was cast. There was the part of my uncle in the film, and I said, "I know a wonderful actor. He's terrific. He kind of looks a bit like me. Have you heard of Lloyd Bridges? What about him playing my uncle?" The producer said, "Oh, your father is a wonderful actor, but he's more of a comedic actor." I said, "What are you talking about, man?" You get typecast very quickly. My dad had to come in and read for the part! Of course, he ended up getting it, but that's one reason why I try to shake up the characters I play. That way, I don't develop too strong a persona one way or the other.
What did you think of "Airplane!"? Was it weird seeing your dad play such a funny character?
No, I thought it was hilarious! Especially my dad playing a sort of drug addict in the thing, which is opposite of his real character. He was such a clean liver. That movie, "Airplane!," what a landmark film it was. It's a great, great movie.
In addition to being an actor and musician, Jeff Bridges is also very involved in the organization Share Our Strength and its No Kid Hungry campaign. "It's about working with governors and leaders in the business world and trying to make ending childhood hunger a priority," Bridges, who has been involved in hunger issues for almost 30 years, told HuffPost Entertainment. "So many kids depend on getting their meals at school. When school's out in the summer, they struggle. Families who use these meal programs in the schools, I think they spend on an average $300 more during the summer months." Those interested in learning more about the campaign can head to the No Kid Hungry website for more information.
"R.I.P.D." is in theaters on July 19.
PHOTO GALLERY
Jeff Bridges