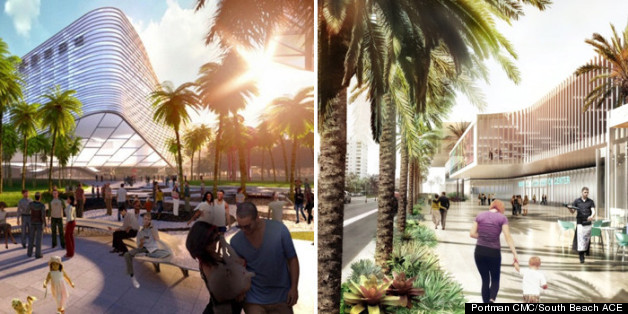 The debate that ate Miami Beach is over: Wednesday night city commissioners selected the South Beach ACE team, with starchitect Rem Koolhaas, to redevelop the Miami Beach Convention Center.
The decision was made despite a last-ditch presentation from Commissioner Ed Tobin in favor of the opposing project, Portman-CMC's Miami Beach Square -- revealing, to the shock of the mayor and fellow commissioners, that negotiations with both development teams had been taped, the Miami Herald reports.
But though Tobin reportedly received extended applause from citizens in the audience, Miami Beach Square only received two votes. It was just the latest dramatic moment in a the drawn-out process to update the convention center property, a push that survived a last-minute scale back request from the city just weeks before the vote and previously led to corruption charges for former city procurement director Gus Lopez.
South Beach ACE, which stands for Arts, Culture, and Entertainment, comes with a $600 million price tag for developing the convention center's 52 acres of prime Beach real estate. Though the city's financial constraints may lead to further adjustments to the team's proposal, it so far includes rotating the convention center to face the Jackie Gleason Theater, which will be renovated to include a two-sided stage; a curving hotel on top of the convention hall; and a new, elevated park that will cleverly disguise 44 truck loading bays and a 1,000-car parking lot.
The cost of the project will be covered by a combination of county bonds and hotel taxes, according to Miami New Times. Check out photos of the winning proposal below -- it's going to change Miami Beach, that's for sure:
PHOTO GALLERY
South Beach ACE By OMA