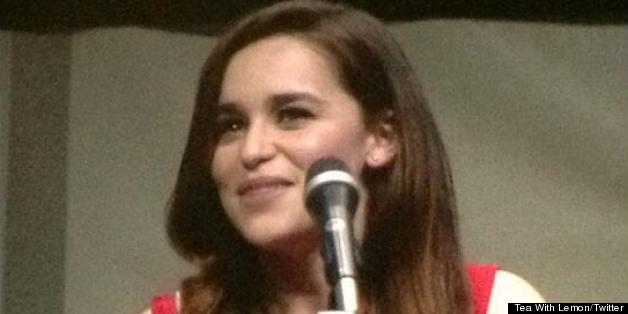 "Game of Thrones" Season 3 came to an end a little over a month ago, but fans are still reeling from the events of the HBO drama's tragic and deadly Red Wedding. At Comic-Con International in San Diego on Friday afternoon, the "Game of Thrones" executive producers and cast gathered to console grieving fans, talk about the show's third season and drop some hints about where it might be going.
Spoiler alert: Do not read on if you have not yet finished Season 3 of HBO's "Game of Thrones."
The "Game of Thrones" Comic-Con panel kicked off with an In Memoriam video (below), set to Boyz II Men's "It's So Hard to Say Goodbye to Yesterday," ending with the words, "The North Remembers."

Then, "Game of Thrones" executive producers David Benioff and D.B. Weiss, writer and co-executive producer George R.R. Martin, and stars John Bradley West (Samwell Tarly), Emilia Clarke (Daenerys Targaryen), Peter Dinklage (Tyrion Lannister), Michelle Fairley (Catelyn Stark), Kit Harington (Jon Snow), Rose Leslie (Ygritte) and Richard Madden (Robb Stark) took the stage.
It's #GameOfThrones panel at #SDCC. My favorite show. #GoTSDCC pic.twitter.com/Uat78DxgGz

-- Ed (@The_Dr_) July 19, 2013
"Four years ago, we said if we can get to that scene we can die happy," Benioff said of the Red Wedding sequence, which Benioff noted required Fairley to perform that deafening scream 20 times.
The Masterminds. Hall H.
#SDCC #gameofthrones pic.twitter.com/bBvNN6TVRz

-- Adam Vadnais (@TheBlackLight77) July 19, 2013
"The crew was crying on set," Benioff said of the last day for Fairley and Madden.
"We always knew they were all going to die. It was part of the blueprint." - D.B. Weiss on the #RedWedding #GoTSDCC

-- Game Of Thrones (@GameOfThrones) July 19, 2013
#MichelleFairley talks about the powerful scenes in Red Wedding episode. #SDCC2013 #GameOfThrones pic.twitter.com/C7uTflLIl0

-- ChasingStarz (@chasing_starz) July 19, 2013
When he left after his last day, Madden confirmed he did indeed cry all the way home, while "ordering multiple drinks on a one-hour flight" home that night.
"He's always someone that's committed in the moment" Madden on his character, Robb Stark #gotsdcc #sdcc #cbcomiccon pic.twitter.com/K6arwk0OOl

-- laurD (@laurD) July 19, 2013
"I was, the night before, with miss Rose Leslie and I was hoping that David and Dan and the show would get some kind of recognition and I never in a million years imagined [that I would get one too]," Clarke said of her Emmy nomination.
#MotherofDragons @Emilia_Clarke on the evolution of her character, Daenerys. #SDCC2013 #GameOfThrones pic.twitter.com/fB5EBqvHH6

-- ChasingStarz (@chasing_starz) July 19, 2013
Her alarm went off at around 6 a.m. Thursday morning and when she was trying to find things to throw at it, she got the messages that the show had been nominated. "It took about three phone calls [for me to understand I got a nomination also]. It didn't sort of register," she admitted.
Emilia Clarke talking about her character's confidence and dragons. #SDCC #GameOfThrones pic.twitter.com/t9Ep36oO0c

-- Tea With Lemon (@TweetWithTea) July 19, 2013
While she was talking about how "exhilarating" Season 5 was to film, Jason Momoa, who played Daenerys' husband Khal Drogo, ran on stage, kissed Clarke, said, "I'm not dead!" and then ran off again. Of course, the Comic-Con crowd full of "Game of Thrones" diehards freaked out.
Khol Drogo came in & kissed Khaleesi!!!! #sdcc #gameofthrones

-- a99kitten (@a99kitten) July 19, 2013
Jason Momoa hops on the stage for a brief cameo. Emilia Clarke exclaims "My sun and stars!" #GoTSDCC

-- Game Of Thrones (@GameOfThrones) July 19, 2013
Fan-favorite and Clark's fellow Emmy nominee Dinklage talked about working with Charles Dance, who plays Tyrion's his cruel father Tywin Lannister. "Every time we have one of those scenes, he would give me a shoulder rub after each take to make sure we still loved one another as fellow thespians," Dinklage said. "They're beautifully written scenes [though]. I find those scenes fascinating because [Tywin] is so frustrated by his three children. They are sort of three different parts of a whole. [The right qualities] are not in the right person -- they each lack what the other has."
DINKLAGE!!!!! - #GameofThrones at #SDCC #PeterDinklage pic.twitter.com/j5bobWvf1m

-- Nerd Fu (@TheNerdFu) July 19, 2013
Martin was also asked if he would do a prequel series set in Robert's Rebellion -- that way Sean Bean, who played Ned Stark, will be in something and not die. "First I have to finish [the next books,] 'The Winds of Winter' and 'A Dream of Spring' and that's going to take me a while. And I have to write quickly because David and Dan are catching up to me. The locomotion is coming down the tracks behind me and I'm still laying the tracks. They're not quite on top of me but I can see the smoke."
Author #GeorgeRRMartin on possible future material about Westeros... #SDCC2013 #GameOfThrones pic.twitter.com/XmLnBOV82b

-- ChasingStarz (@chasing_starz) July 19, 2013
He went on to say that part of the reason he wouldn't do anything set in that time is because by the time he's done with all seven books, you'll know everything about the Robert's Rebellion era. "You'll know all the twists and turns, all the mysteries will be solved," Martin said, noting he is tempted to write something about Aegon the Mad King. The author did say he's sorry that Sean Bean had to die, but "he dies so well."
"Game of Thrones" fans were also treated to a deleted scene at Comic-Con featuring Tywin Lannister and Grand Maester Pycelle speaking before Tywin's first small council scene of Season 3. Check it out below!
And with that, the "Game of Thrones" EPs and cast said their goodbyes. Until Season 4!

PHOTO GALLERY
"Game Of Thrones"