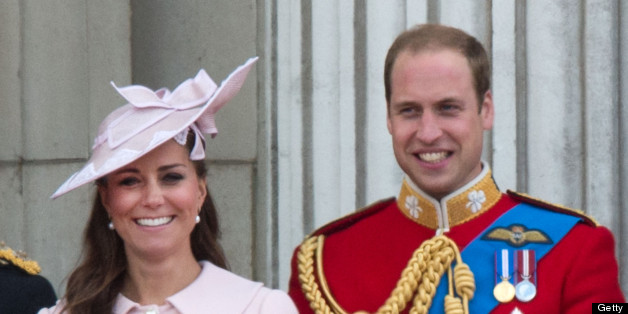 People excited by rumors that Kate Middleton was ready to give birth Friday afternoon were sorely disappointed.
The hubbub was actually the result of the Sun sending Prince William and Kate Middleton look-alikes to the Lindo Wing of St. Mary's Hospital, where Kate is expected to give birth. There had been rumors on Twitter that William and Kate were heading to London, and journalists and other observers gathered outside the entrance, only to see that "William" and "Kate" were actually two actors wearing t-shirts emblazoned with the Sun logo.
The stunt was apparently part of a promotion for the newspaper's livestream of the hospital's entrance, which the Sun had tweeted about moments before the prank.
There were plenty of people not amused by the Sun's prank. Critics on Twitter blasted the stunt as "stupid," "pathetic" and "appalling." Royal Central, a Twitter account for news about the royal family, said Friday:
Well done @TheSunNewspaper, now caused a build-up of traffic outside St Mary's too; obstructing an ambulance!

— Royal Central (@RoyalCentral) July 19, 2013
It was also a frustrating moment for journalists awaiting the birth of the royal baby, some of whom have camped out in front of the hospital for over a week. American correspondents — including NBC News' Natalie Morales — traveled to London to cover the news, and people in the media have been going "stir crazy," as Fox News' Martha MacCallum put it.
BEFORE YOU GO
PHOTO GALLERY
Kate Middleton's Pregnancy Style