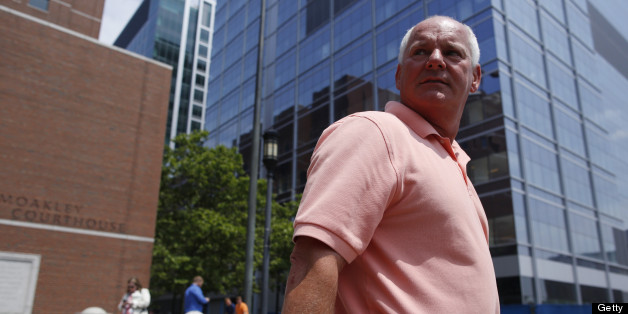 Authorities say that the death of a man who was on the witness list in the trial of mobster James "Whitey" Bulger is suspicious.
The body of Stephen "Stippo" Rakes was found on Wednesday in Lincoln, Mass. The cause of death is yet unknown, and the Middlesex district attorney's office reported that there were "no obvious signs of trauma."
An unnamed law enforcement source told New England Cable News that the death is being investigated as suspicious. The cause of death is pending a complete autopsy and toxicology results.
The timing of Rakes' death was noteworthy, given that he was prepared to testify against one of the country's most notorious fugitives. Bulger, 83, is on trial for 19 murders, racketeering, and other charges.
Rakes, 59, was prepared to testify that he was threatened, with a gun, to sell his South Boston liquor store at below-market value in 1984 so that Bulger and the Winter Hill Gang could use it as a front, according to NBC News. He alleged that Bulger placed the gun on his kitchen table and made demands.
"One of my daughters picked up the gun and that's when I called my wife to say we were selling the store," he told HuffPost Crime last month.
Last week, however, Bulger's former associate Kevin Weeks testified that Rakes was trying to shake down the gangsters for cash, sparking the gun incident.
Rakes waited for decades for the opportunity to testify against Bulger, but was told after Weeks' testimony that he was taken off the witness list. It's yet unclear why his name was dropped.
His body was found at 1:30 p.m. Wednesday. He didn't have a wallet or identification with him, WHDH reports.
BEFORE YOU GO
PHOTO GALLERY
Whitey on trial: Key evidence