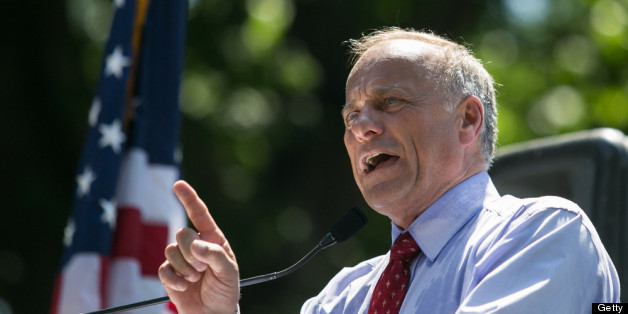 Rep. Steve King (R-Iowa) is set to appear on Univision's "Al Punto con Jorge Ramos" this Sunday, an unconventional move for a politician who has been vocally opposed to immigration reform.
But if you're expecting a straight answer from King about what should become of the 11 million undocumented immigrants currently residing in the United States, prepare to be disappointed.
In an advance transcript of the interview, King repeatedly shirks the question.
"You don't want to legalize 11 million undocumented immigrants," Ramos asks. "So what would you do with them?"
King responds by saying that giving in to calls to reform the country's immigration system would amount to waiving the rule of law.
Ramos circles back on his original question. "What would you do with them? I mean, the idea of self-deportation, as you know, with Mitt Romney just didn't work."
King dismisses the question. "Well, here -- it isn't my responsibility to solve that problem," he says. "And American citizens and legal Americans do not have a moral obligation to solve the problem of the 11 million people that are here unlawfully. That's a condition they willfully stepped into on their own, and some of them will make the decision on their own on what to do. Many of them actually will do that."
"But that is--" Ramos interjects.
"It's not my responsibility to address that, Jorge," King counters.
When pressed later in the interview, King avoids stating outright that he's in favor of deporting millions of people, coming back to his original argument about the rule of law.
"So one of the pillars of American exceptionalism is the rule of law," King says, "and if we destroy that because we are -- the sympathy in our heart for the DREAMers is greater than our love for the rule of law, then we have failed, we failed our Founding Fathers, and we have diminished the destiny of this nation."
This is a familiar theme for the congressman. Last month, King decried the fact that a group of undocumented activists could occupy his office as a sign of the slackening rule of law:
20 brazen self professed illegal aliens have just invaded my DC office. Obama's lawless order gives them de facto immunity from U.S. law.

— Steve King (@SteveKingIA) June 13, 2013
King also sounded off about the presence of undocumented immigrants at a congressional hearing in May, asking on Twitter, "How can we secure border if we can't secure our room?"
BEFORE YOU GO
PHOTO GALLERY
The Many Brazen Faces Of Steve King