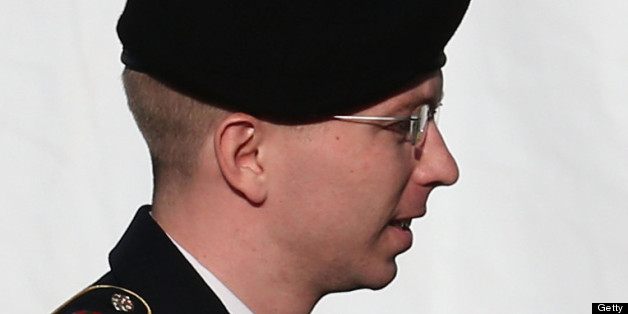 FORT MEADE, Md. -- For a moment on what could be the last day before closing statements in the trial of Army Pfc. Bradley Manning, the documentary film "We Steal Secrets" -- and a former Army specialist interviewed in it -- took on a starring role.
Was Manning, who has admitted to sending thousands of sensitive files to WikiLeaks, a reckless traitor -- or was he a "young, naive, but good-intentioned" soldier grappling with his sexuality, as his defense attorney has claimed?
The witness testifying to those questions was Jihrleah Showman, an Army specialist who supervised Manning during their deployment together in Iraq as intelligence analysts. Voluble and strongly built, Showman butted heads with the computer nerd Manning again and again.
She has an entertaining turn in "We Steal Secrets," a documentary film released earlier this year that was lambasted by WikiLeaks supporters for its stark portrait of Julian Assange.
The film portrays Manning, on the other hand, as an idealistic whistleblower who just wanted to change the world. And behind the scenes, director Alex Gibney negotiated with Manning's attorneys to provide them with an audio clip that could be helpful to Manning's defense. The defense hoped the recording of an interview with Showman would demonstrate her history of ill feelings toward Manning, and create doubts about her testimony against him.
Showman was called to testify Friday morning to rebut the idea that Manning was a humanist who wanted to serve both his country and the world, as a defense witness had claimed. For the prosecution, she didn't disappoint, claiming Manning had once told her "the flag meant nothing to him."
But on cross-examination, defense attorney David Coombs chipped away at Showman's credibility. She claimed she didn't remember speaking badly of Manning -- so Coombs played a clip from "We Steal Secrets" to refresh her memory.
In the film, Showman seems cocky and also a bit bumbling, referring to "Iraqi" as a language. But she also provides crucial color about Manning's life on Forward Operating Base Hammer in Iraq, and about the how his sexuality was perceived.
Showman describes Manning as a computer whiz who was "desperately addicted to soda." But she also describes the dark side of their interactions -- including an incident in which Manning punched her.
"I was the last person he probably should have punched," she says in the film. "My superiors decided that it was just escalating too much and that he had to be removed and have his weapon taken away from him."
Coombs used that scene try to establish Showman's personal animus toward her subordinate. He also played an audio outtake from Showman's interview with the "We Steal Secrets" filmmakers to show what she really thought of Manning's actions in leaking documents to Wikileaks.
"Somebody who knowingly joins the military, intentionally gets a security clearance, because they'll be able to have access to more information that way, completely has a disregard for military regulations, breaks a federal law by taking classified information and not only giving it to an unclassified source but a source that's not even in America?" Showman asks in the recording. "That's not a whistleblower. That's somebody who in my opinion has no allegiance to this country. And in my opinion has no desire for -- for our country's well being, has a desire for the outside sources to possibly do damage to this country."
Showman claimed she was responding to a hypothetical question from the filmmaker, and not specifically talking about Manning's case. Gibney did not immediately respond to a request for clarification on that point.
The clip came as a surprise to trial observers, since it has never before been played in court. According to Gibney, its use in the trial was the result of his own negotiations with the defense team.
"The Defense Team asked me for all the outtakes of the Jihrleah Showman interview," he said in an email to HuffPost. "I thought that request was too broad. I negotiated with counsel regarding a narrowly tailored request that could not be obtained from any other source and, after being convinced that the more focused request was highly relevant to the defense of the case, I provided one short audio clip to the Defense team."