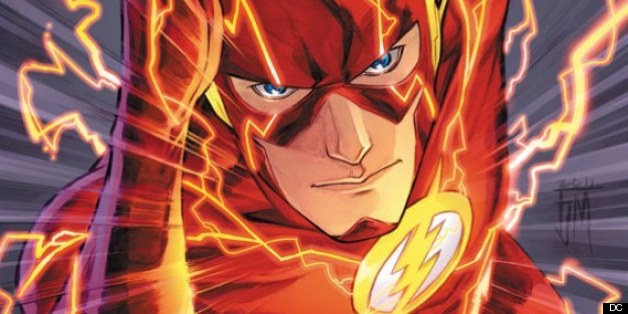 "The Flash" is set to join the bevy of movies being announced at Comic-Con 2013.
The Hollywood Reporter broke news of the film in a report on the newly announced Zach Snyder project that will star both Batman and Superman. Little is known about the Flash movie, but it is already having an impact on some heavily anticipated projects: THR reports that the "Justice League" movie would follow both the Superman-Batman combo hit and the Flash film, which is slated for 2016. That likely puts those clamoring for "Justice League" facing a 2017 debut for superhero posse film.
More is developing at Comic-Con. HuffPost Entertainment Senior Writer Mike Ryan -- who wrote a piece suggesting a Flash movie precede "Justice League" last month -- is on the scene in San Diego, and the rest of our team is combing the net for the biggest rumors and freshest announcements. Stay tuned for more information, and be sure to check the live blog that follows the gallery of photos below.
PHOTO GALLERY
Comic-Con 2013
07/20/2013 4:45 PM EDT
That's All, Folks
More on the "Man of Steel" sequel with Superman and Batman teaming up can be found here.
07/20/2013 4:29 PM EDT
The Full Statement On Batman/Superman
"I want you to remember my hand at your throat. I want you to remember the man who beat you."
07/20/2013 4:28 PM EDT
IT'S OFFICIAL
Warner Bros. unveils a Superman logo with the Batman logo behind it.
07/20/2013 4:27 PM EDT
Um
Harry Lennix is now on stage (he co-starred in "Man of Steel") to read something ...
07/20/2013 4:25 PM EDT
Supes On!
"It's official: We're going to make another Superman movie."
07/20/2013 4:24 PM EDT
Wait, That's Superman's Music
Zack Snyder just walked onto the Hall H dais.
07/20/2013 4:21 PM EDT
That's The End Of 'Edge Of Tomorrow'
... will Warner Bros. announce the Superman/Batman movie?
07/20/2013 4:18 PM EDT
We Would See This Movie
So hold on...Edge of Tomorrow is basically 50 First Dates with aliens, guns and Tom Cruise? #sdcc

— NextMovie (@NextMovie) 3 years ago
07/20/2013 4:16 PM EDT
Audience Questions For Tom Cruise
Things that were actually said: "My question is for Maverick."
07/20/2013 4:11 PM EDT
Still Happening
Now Tom Cruise is making Bill Paxton do Chet's lines from 'Weird Science.' The '80s, man. The '80s. #SDCC

— Adam B. Vary (@adambvary) 4 years ago