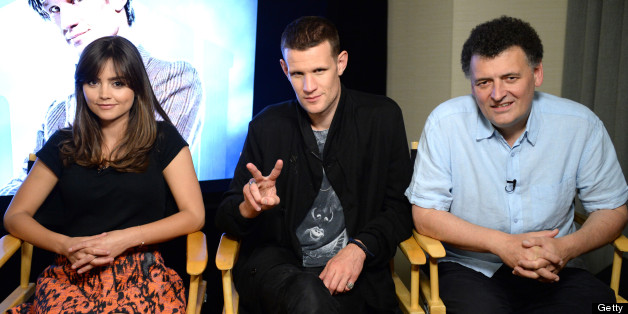 The TARDIS landed in San Diego for the "Doctor Who" Comic-Con panel.
Outgoing series star Matt Smith, Jenna Coleman and "Doctor Who" showrunner Steven Moffat were on hand for the panel. Keep up with the latest from the "Doctor Who" Comic-Con panel with the liveblog below.
07/21/2013 4:36 PM EDT
And here's the video
07/21/2013 4:29 PM EDT
Out of time
And that's a wrap on the 50th anniversary "Doctor Who" Comic-Con panel.
To play us off, they show the "Doctor Who" song/video that Craig Ferguson he did for his show some time ago.
07/21/2013 4:27 PM EDT
Going too far
In writing for the show, does he ever think he's gone too far, Ferguson asks?
"Yes, and then we put it on television," Moffat said.
Ferguson said that the Weeping Angels truly scare him on a deep level.
"It's supposed to be scary," Moffat said. That's how kids want the show, he adds. "When I was a kid, I was proper terrified of 'Doctor Who.'"
They don't do gore and blood, however; that's not really the style of the show, according to Wilson and Moffat.
07/21/2013 4:25 PM EDT
Angel talk
Moffat has a Weeping Angel statue in his garden. They thought it would be funny to put it in his neighbor's garden and have Matt knock on the neighbor's door. They did not do that, though, "because that would be weird," Smith said.
07/21/2013 4:24 PM EDT
Favorite River Song moments?
"I love the scene in her prison and I'm walk back and she kisses me. She's brilliant in it, she's just so flowery anc camp and wonderful," Smith says.
"I loved the farewell [between them]," Moffat said. "It wasn't really noted at the time but "it's the first time we see the Doctor kiss someone -- not get kissed, but take someone" and really go after kissing them in a real way.
He also likes the moment in "Day of the Moon" where he's saying "Shut up" and she says, "Make me." "The Doctor is so bad at flirting," Moffat said with a laugh.
07/21/2013 4:21 PM EDT
Sign time
A fan has made a jacket out of 11 different Comic-Con swag bags and asks Matt to sign it, which he does.
07/21/2013 4:20 PM EDT
Writing Who
Does Moffat think about the audience when writing the show, Ferguson asks.
"The only way to write anything is to write it for yourself," Moffat says. "It's witless and completely pointless to try to think of what other people would like."
07/21/2013 4:18 PM EDT
What would you undo?
If each of you could take the TARDIS back in time to a moment in their lives, what would it be and why? It's a great question but the panelists understandably deflect it, because those moments tend to be quite personal.
As Smith said, "Some things I can say in a room of seven thousand people and some things I can't."
07/21/2013 4:15 PM EDT
Who else?
Fans asking questions are thanking Smith and everyone else on stage before asking questions.
There's a good fan question: Who would Smith like to play if not the Doctor?
"The Master," Smith said.
"Strax," Coleman said. "You're not tall enough," Moffat joked.
I'd want to be the Doctor. That's what I've dreamed all my life," Moffat said.
"I'd to have been Jo Grant," Gatiss said.
07/21/2013 4:14 PM EDT
Diana Rigg
They're all recalling favorite moments and Gatiss said he loved having Diana Rigg in one of his episodes. His favorite moment was her pulling back her dress to reveal an alien parasite on her body. "That's something I never thought I'd see on British television," Gatiss said.
BEFORE YOU GO
PHOTO GALLERY
"Doctor Who" Season 7