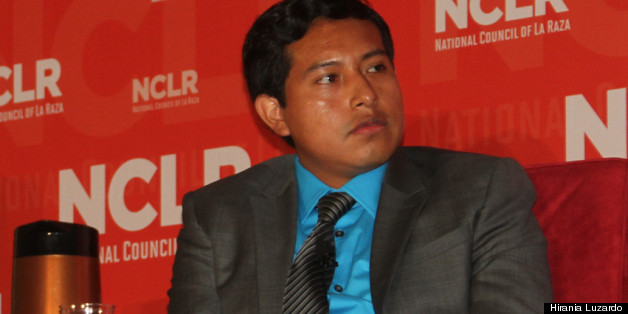 NEW ORLEANS -- Emilio Vicente majors in public policy at the University of North Carolina in Chapel Hill. He speaks English and Spanish fluently and graduated with a 4.3 GPA from high school.
He's also undocumented.
Emilio spoke at a panel during the 2013 National Council La Raza (NCLR) conference in New Orleans on Saturday. NCLR is the largest Latino civil rights advocacy group in the United States and its annual conference attracts the most influential individuals in the Hispanic community.
The four-day event covers topics including health care, immigration, and the importance of media and the arts in the Latino community. Emilio has been working with NCLR for many years, trying to inspire other undocumented youths to get an education.
"I am my best advocate. I can change hearts and minds by telling my story," said Emilio during the "Beyond Immigration Reform: Education As A Catalyst For Integration" panel.
The 21-year-old moved to Siler City, N.C., from Guatemala with his parents when he was 6. His mother worked at a chicken factory while his father worked in lumber. His parents decided to leave their home due to the civil war that ravaged the country for 36 years. They wanted a better life for their children.
Then when Emilio was 11, his father was paralyzed from the waist down after heavy machinery fell on him at work and almost crushed him completely. He was left unable to provide for his family.
His parents were forced to make the difficult decision to return to Guatemala. Emilio, then 15, made the even more difficult decision to stay in the United States.
"I remember that moment dropping my parents off at the airport and just the thought that I didn't know when I was going to see them again ... I knew this was going to change my life completely," Emilio told The Huffington Post.
But he also knew it was the right decision, he said. Emilio wanted to get an education and help others in his situation. Yet it has not been an easy path.
"Being undocumented, I knew I'd have to work twice as hard," said Emilio.
The student and immigration activist joined the Scholars Latino Initiative at UNC, a program "dedicated to providing higher education opportunities for Latino youth in North Carolina," according to its website. Emilio was paired with an undergrad mentor who guided him throughout his studies.
"It was the first time I'd met a Latino college student and [my mentor] made me realize that there are Latinos in college." said Emilio.
Emilio is now going into his junior year. He's on the advisory board of NCLR Líderes, a program designed to create opportunities for Latino youth. He's been a strong advocate for immigration reform, speaking about his situation whenever he has a chance, hoping to inspire others to do the same.
Sitting next to actress and Latino rights activist Eva Longoria, the DREAMer spoke about the importance of having mentors guide Latino youths who are unsure how to obtain higher education.
"[My mentor] helped me believe in myself and made me realize that I can go to college even if I am undocumented," he said.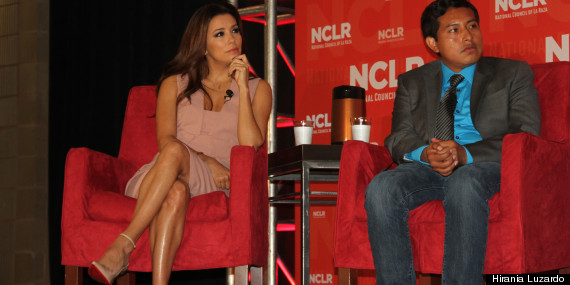 Emilio hopes to continue to graduate school and get a degree in public policy so he can help other immigrant communities find a voice and realize that they are their own best advocates. Although the young immigrant hasn't seen his parents in six years, he's more motivated than ever to graduate and help them and others.
"My motivation has been not being able to see my parents, I want to show them that my sacrifice, their sacrifice, empowered me," he said.
BEFORE YOU GO
PHOTO GALLERY
10 Major U.S. Federal Immigration Laws