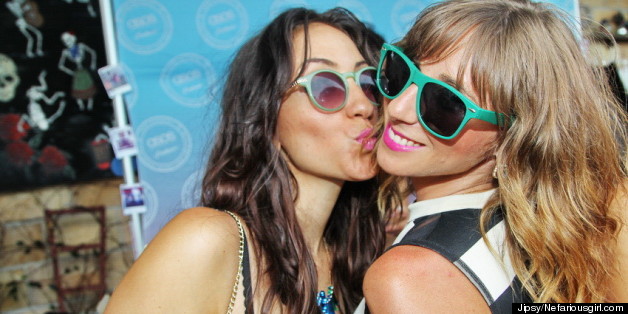 BY JIPSY, NEFARIOUSGIRL.COM
Over the weekend, there were so many brunches, lunches, pool parties and cocktail receptions for Mercedes Benz Fashion Week Swim, most of us can't remember what went on -- let alone what we attended. One that I did manage to capture was the ASOS Penthouse Party at Soho Beach House, presented by DFM.
While I only had an hour and a half to hang out and enjoy the beginning of the party, I was intrigued by all the eyewear being shown off at the party. Cute young things were all over, hanging out at the 8th floor pool and bar, sipping on Perrier to stay cool while others enjoyed cocktails by Corozo Tequil and frosty Heineken beers. Spotted some of the fashion writers huddled in a corner taking notes over a can of Red Bull -- to keep them going, I guess. There were ASOS towels, beach balls and magazines laid out throughout the pool area. The early birds found their spots on a poolside bed and I say lucky for them, because the space filled up pretty quick! If your plan was being there for all 4 hours of the party, having a place to sit or lay in between dance sets is always ideal.
What I missed? Getting swim trunks in the vending machine which was on the fritz when we first arrived, the super-duper swag bag filled with Incipio headphones, Square readers and an ASOS card to the online store. Also missed listening to Nancy Wang of LCD Sound System DJing set and IO Echo performing which would have been great. But again, my rush to the next swim show. So I did the next best thing and found a video online of the rock band's performance that day, and it almost felt as if I was there. Almost. -- Jipsy
PHOTO GALLERY
ASOS Swim Week Party At Soho Beach House Penthouse