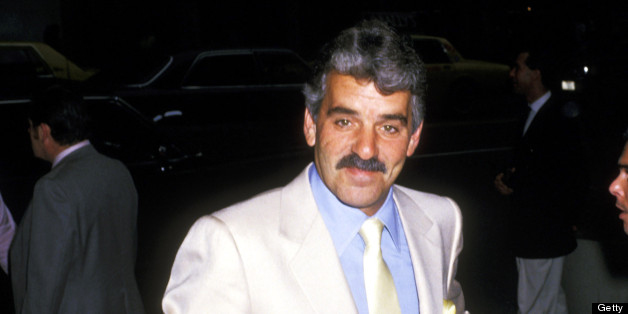 Actor Dennis Farina compiled over 70 film and television credits in his lengthy career, playing a variety of tough guy roles in films like "Midnight Run," "Get Shorty" and "Saving Private Ryan." Farina died on Monday at the age of 69.
"I realize that no one is going to come to me and ask me to be Julius Caesar or a romantic lead, but I think I'm a certain type of guy who looks a certain way and that's just the reality of things," Farina told Moviefone in 2011.
Born in Chicago, Farina didn't start acting at a young age. He was actually a Chicago police officer for 18 years, and was hired by Michael Mann to consult on the 1981 film "Thief." Mann gave Farina a small role in the film, kicking off a career that spanned three decades. Farina would work with Mann again a number of times, including on the film "Manhunter" and two of Mann's television series, "Miami Vice" and "Crime Story." He also served as a consultant on "Heat."
Farina's breakout role came in the 1988 film "Midnight Run." He co-starred in that film opposite Robert De Niro and Charles Grodin. Farina's "Midnight Run" character, mobster Jimmy Serrano, was a font of one-liners in the film, which just turned 25 years old on Saturday. Video highlights of Farina's work in "Midnight Run" can be found in the NSFW clip below. (Favorite line: "Is this moron number one? Put moron number two on the phone.")
Following "Midnight Run," Farina would appear as a supporting player in films like "Striking Distance," "Romeo Is Bleeding" and "Another Stakeout." Farina also tweaked his hardened image by playing a cantankerous manager in the 1994 kids' movie, "Little Big League." The actor's gift for comedy would extend to other films like "Eddie," "That Old Feeling" and, most memorably, "Get Shorty." Farina played a goofy mobster in Barry Sonnenfeld's Elmore Leonard adaptation, which also starred John Travolta, Gene Hackman, Danny DeVito and the late James Gandolfini. Farina would tackle Leonard again for Steven Soderbergh in "Out of Sight."
In 1998, Farina worked with Steven Spielberg in "Saving Private Ryan," a film that would star one of the actor's frequent directors: Ed Burns. Burns made two films with Farina, including "Purple Violets" and the underrated comedy-drama "Sidewalks of New York." "I just liked that movie so much," Farina said to Moviefone. His role in "Sidewalks of New York" was that of an aging lothario, a part he seemed to relish.
Farina's long career also extended into television: He was the star of "Law & Order" and also featured on the HBO series "Luck." Most recently, he guest starred on "New Girl," playing father to Jake Johnson's Nick.
Farina's last listed credits on IMDb are a pair of comedies: "Lucky Stiff" and "Authors Anonymous." Farina's last film prior to those was the drama "The Last Rites of Joe May," about a down-on-his-luck hustler at the end of his life.
PHOTO GALLERY
In Memoriam: Celebrities We've Lost In 2014