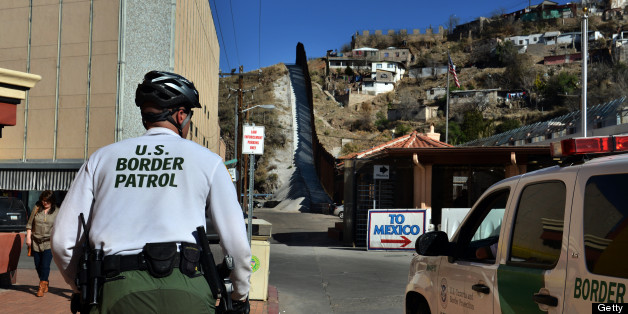 Nine undocumented youths were stopped and held for questioning at the border Monday as they attempted to cross back into the United States from Mexico through a legal port of entry.
In an audacious move even from a group known for pushing boundaries, the National Immigrant Youth Alliance organized the crossing at the Arizona border town of Nogales as a protest against President Barack Obama's record-setting pace of deportations.
"Millions of families like mine have been separated for far too long," Lizbeth Mateo, an organizer with NIYA, wrote in a blog piece published by The Huffington Post on Monday. "I waited 15 years to see my grandfather again, and to meet the rest of my family."
As of Monday evening it remained unclear whether the activists would be set free or wind up in detention and deportation proceedings. The activists' lawyer, Margo Cowan, told the Associated Press that they had requested humanitarian parole and would ask for asylum if that were denied.
But by openly leaving United States with the intention to return -- an unthinkable act for most of the 11.1 million undocumented immigrants living in the United States -- the protest organizers are also testing the bounds of prosecutorial discretion and Deferred Action for Childhood Arrivals, an Obama policy implemented in 2012 that exempts most immigrants brought here illegally as children from deportation.
"The basic idea is pretty simple," David Bennion, an immigration lawyer who works with NIYA, told HuffPost. "The government has the discretion to implement the immigration laws how they see fit."
Customs and Border Patrol said in a statement that the "applicants for admission must establish that they are legally eligible to enter the United States." The statement said that DACA helped "ensure that resources are not spent pursuing the removal of low priority cases involving productive young people," but did not say whether the policy would apply to the nine activists.
Lizbeth Mateo, Lulú Martínez and Marcos Saavedra returned to Mexico earlier this month with the intention of crossing back into the United States. They met up there with four other young immigrants who had returned to Mexico for economic reasons and a fifth who had been deported from Kansas, according to the Los Angeles Times.
They gathered in the Mexican city of Nogales, where they livestreamed a march on the Mexican side of the border to chants of "undocumented, unafraid" and "bring them home." Then they walked across the border to Nogales' sister city in Arizona and presented themselves to U.S. CBP officials.
Word spread. A ninth activist who left the city of Tucson two years ago, Rosie Rojas, joined the original group of eight at the border, Fronteras Desk reporter Michel Marizco tweeted.
And there's a Ninth, Rosie Rojas d Tucson. Left 2 yrs ago. Spent last three say looking for the activists and just found them in Sonora.

— Michel Marizco (@borderreporter) July 22, 2013
Others appeared spontaneously, according to NIYA's media coordinator Domenic Powell.
"When we were on the Sonora side this morning, there were three young people that showed up, some with paperwork in hand," Powell told HuffPost. "That's independent of us, but it's what we wanted. We want more people to continue the fight after deportation."
The protest comes in the midst of congressional wrangling over comprehensive immigration reform. While the Senate passed its bill, the fate of reform awaits the majority-Republican House.
Outspoken immigration reform advocate Rep. Luis Gutierrez (D-Ill.) expressed solidarity with the protesters in a Facebook post Monday.
"I have heard about the DREAMers who attempted to return home to the United States today after deportation, including my constituent Lulu Martinez from Chicago," Gutierrez said. "I hope the Obama administration will do the right thing and let them back in."
Undocumented youths have taken drastic action before to draw attention to the injustices of the immigration system and Obama's deportation record.
A group of five immigrants, including Mateo, staged a sit-in at Sen. John McCain's office in 2010 to press the Arizona Republican to sponsor the Dream Act.
This year, Claudia Muñoz, an undocumented organizer with NIYA, purposefully submitted to detention and the possibility of deportation in order to gather information about conditions for detainees in Calhoun County Correctional Facility in Michigan.
BEFORE YOU GO
PHOTO GALLERY
6 Misconceptions About The Border