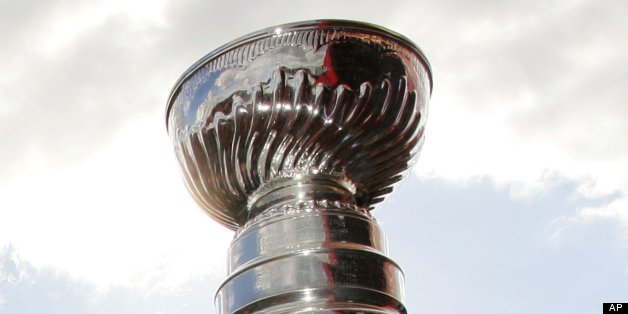 One adorable baby didn't seem so impressed upon meeting perhaps the best trophy in all of sports.
CBS Sports reporter Michael Singer snapped a photo of a baby sitting in the bowl of the Stanley Cup as it continued to make its rounds throughout Chicago. According to Puck Daddy, the photo was taken at Stanley's Bar, where it made a surprise appearance with Patrick Sharp and former NHL all-star Jeremy Roenick.
Not only did I hang out with Stanley Cup, Patrick Sharp and Jeremy Roenick last night, but this pic of baby happened: pic.twitter.com/ho2p3mvcb6

— Michael Singer (@RealMikeSinger) July 23, 2013
"Everyone crowded around. Finally, I just saw a couple put their baby in it," Singer told Puck Daddy. "I just happened to get lucky because the baby looked miserable when the camera went off. As soon as I saw it I was like, wow, that looks ridiculous."
This wasn't the first time that a baby refused to acknowledge the glory of the Cup. Shortly after the Blackhawks' Game 6 victory last month, Duncan Keith introduced his newborn to the trophy at TD Garden. That didn't go over too well, either.
BEFORE YOU GO
PHOTO GALLERY
PHOTOS: Blackhawks With The Stanley Cup