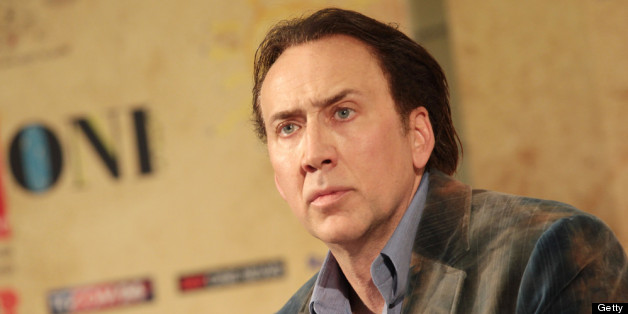 In a recent interview, Nic Cage told the Guardian that he is in on the joke, guys:
"The internet has developed this thing about me – and I'm not even a computer guy, you know? I don't know why it is happening. I'm trying not to… lemme say this: I'm now of the mindset that, when in Rome, if you can't beat 'em, join 'em."
Not sure what that has to do with Rome, but he does have a castle in Germany. In fact, Cage is notorious for his outrageous purchases and inability to pay for them. Also, one time, he was awoken by a naked man eating a fudgesicle.
Most of the "thing" the Internet has developed about Cage, however, is generated by memes derived from his interesting acting skills. We used Google Trends conducted a study to investigate overall interest in Internet god Nic Cage: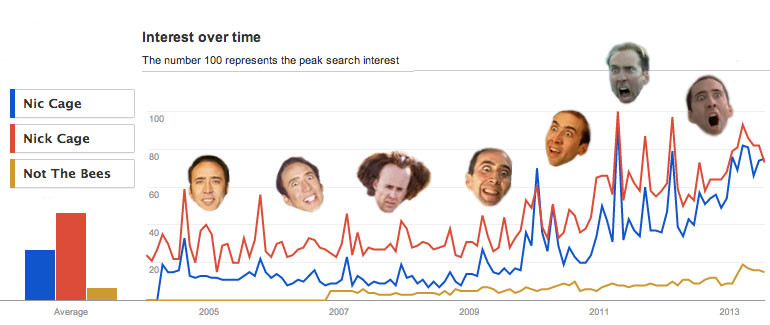 It appears the Internet "thing" is rising at an exponential rate, which increases independent of Nic news stories. As the above graph clearly reveals, if the uncaged obsession continues at its current rate, everyone will be Nic Cage by 2016.
This finding brings us to the first of the most influential Cagian memes:
Nic Cage As Everyone
Launched in 2009, Nic Cage As Everyone began as a valiant effort to turn everyone into Nic Cage. The initiative has generated many inspired efforts: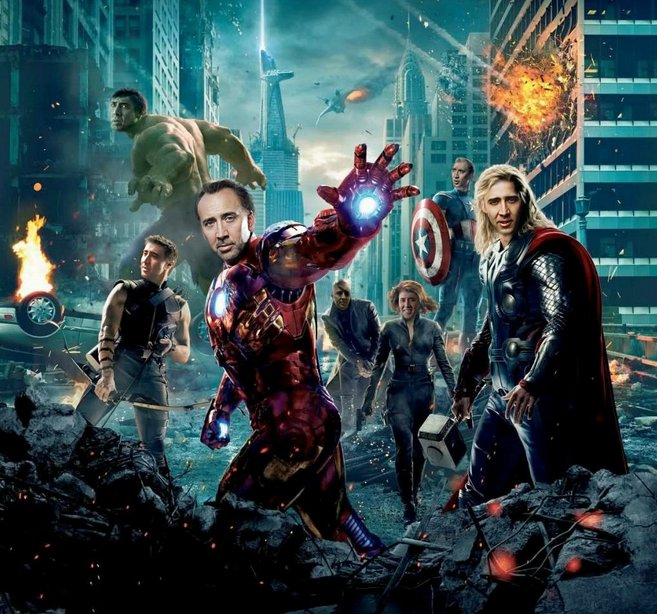 Know Your Meme reached out to the founding blogger, who explained that it all started with a simple obsession with Nic Cage:
"It began when it was brought to my attention that I was 'obsessed' with Nic Cage, meaning that I brought him up in conversation nearly everyday in our carpool. I think he's a fascinating and unique actor, even when he's in big budget films that people don't necessarily deem 'good.' The great thing about Nic Cage is that, like in his films, no matter 'who he is,' he's still essentially Nic Cage."
You Don't Say?
Nic transformed a perfectly inane idiomatic expression into an iconic emblem of sarcasm with his groundbreaking performance in "Vampire Kiss." A contour drawing of a still from the 1988 film has become a motif in rage comics. Straight from your nightmares, the delightful scene:
My Hair Is A Bird, Your Argument Is Invalid
This meme, taken from a still from the 2007 film "Next," is the ultimate comeback in really any ad hominem dispute. The image was supposedly first uploaded to 4chan. Though the origin of the Photoshop is undocumented, its logic goes unchallenged.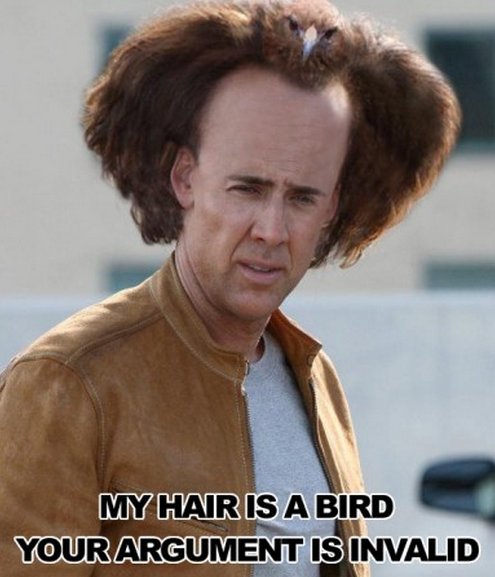 Not The Bees
In the 2006 remake of "The Wicker Man," Cage portrays Edward Malus, a sheriff in search of a young girl, who spends quite a bit of time sparring with neo-pagan cult beekeepers. The magical absurdity of the film (which scored 15 percent on Rotten Tomatoes) is perhaps best explained by the New York Times: "The audience seemed less confused than Mr. Cage himself."
One scene in particular spurred quite a bit of buzz (and also techno remixes):

How'd It Get Burned
See: Not The Bees

Nic Cage Wants Cake
In the 2000 film "Family Man," Nic Cage gave a stunning performance as a man denied cake. Nine years later, still haunted by the way Cage captured the desire for dessert, animator Harry Partridge created this stunning homage:

Nic Cage Losing His Shit
Finally, the most Cagian meme of all, often depicted as "Cage Rage," is reflected in Nic's uncanny ability to lose his shit. Consider the montage below:

BEFORE YOU GO
PHOTO GALLERY
Celebrity News & Photos