 A batch of new polls -- national and statewide -- confirms that Obama's approval rating continues to slip. ABC/Post finds GOP in a bind over immigration. And everyone's still talking about Nate Silver. This is the HuffPost Pollster update for Tuesday, July 23, 2013.
OBAMA'S APPROVAL DOWN NATIONALLY - Pew Research released their monthly political survey on Tuesday: "The survey finds that Barack Obama's overall job rating, which was more positive than negative in both May and June, is now evenly divided: 46% approve of his job performance while 46% disapprove. Obama's job rating among whites is among his lowest ever. Just 33% of whites approve of the job Obama is doing as president, while 60% disapprove." [Pew Research]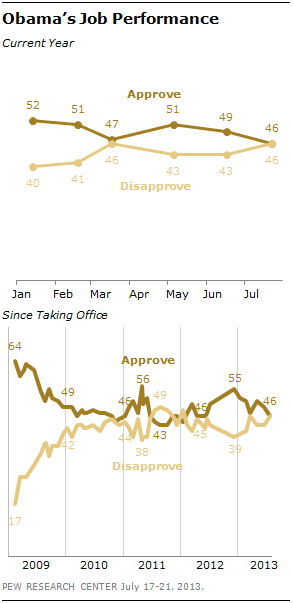 Job rating slips under 50 in ABC/Post poll - The latest ABC News/Washington Post poll finds a small decline in President Barack Obama's job approval rating that while too small to be considered statistically significant by itself is nonetheless consistent with other polls that have shown a continuing slide since January: "As he readies a new pitch on economic growth, the president's job approval rating has slipped below 50 percent for the first time since September in ABC News/Washington Post polls. Even with a recovery in consumer sentiment, just 45 percent approve specifically of his handling of the economy, and 60 percent say the country's headed seriously off on the wrong track." [ABC News]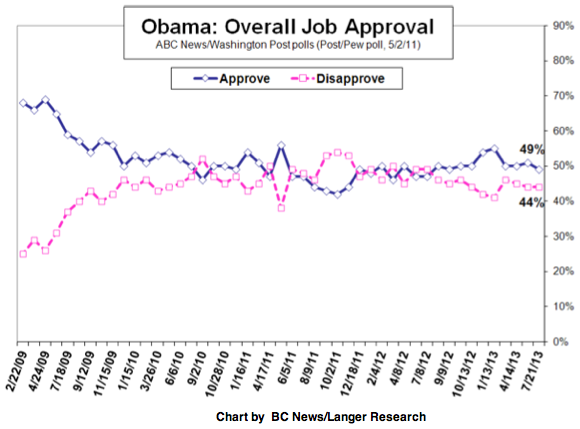 And in McClatchy/Marist - David Lightman: "Stung by Americans' persistent worries about the economy and a capital gripped by controversy and gridlock, President Barack Obama is suffering his lowest job approval numbers in nearly two years, according to a new McClatchy-Marist poll...Overall, the poll found Obama's job approval at 41 percent last week, a sharp drop from April's 50 percent and his worst showing in the poll since 39 percent in September 2011. Forty-eight percent disapproved in the latest poll, up from April's 46 percent. [McClatchy]
Consistent decline in 2012 - The new surveys bring the current estimate of Obama's approval on the Pollster chart, as of this writing, to 44.8 percent approve, 49.1 percent disapprove. The chart aggregates all national public polls that report Obama approval. The chart indicates a slow but steady term decline of just over six percentage points in Obama's job approval numbers since peaking at 51.3 percent in late December. [Pollster Chart]
STATE POLLS PICK UP OBAMA RATING DROP: - Keep in mind that the declines reported statewide may seem larger, mostly because these surveys update only a few times a year:
Wisconsin - Marquette: "A new Marquette Law School Poll finds that job approval ratings for Gov. Scott Walker and President Barack Obama both have slipped below 50 percent in Wisconsin, with sharp differences evident among blocks of swing voters and across various regions in the state. Obama's job approval in July is 47 percent with 46 percent disapproval. In May, it was 50--45 and in March 48--45." [Marquette]
California - Mark DiCamillo and Mervin Field: "President Barack Obama's job performance rating among California voters has taken a ten-point drop since the Field Poll's last measure in February. Then, 62% of this state's voters approved of the job he was doing. Now, the President's approval rating stands at 52%. The largest decline in Obama's job appraisals is seen among segments of the California electorate that have historically given him high marks. These include registered Democrats and non-partisans, women, and voters under age 40. Each show double-digit declines in approval from February." [Field]
IMMIGRATION PUTS GOP 'IN A BIND' - Jon Cohen and Dan Balz on additional results of the Post/ABC poll: "Majorities of Americans support the two main pillars of immigration reform — increasing border security and a path to citizenship for undocumented immigrants. But partisan, racial and ethnic divisions dampen overall public support for a comprehensive reform package. Half of all Americans — and 83 percent of Hispanics — say they would be disappointed if the House does not pass legislation instituting a path to citizenship. But Republican rank-and-file oppose such a provision, making it a central sticking point in GOP deliberations over the legislation. Republican leaders have highlighted Hispanic outreach as a major part of their strategy to win the White House in 2016. But the poll shows that Republicans would bear the brunt of responsibility should a path to citizenship not be included in the final bill. [WaPost]
ENZI LEADS CHENEY IN 2014 WYOMING SENATE RACE - HuffPost: "Liz Cheney is starting her campaign to unseat Sen. Mike Enzi (R-Wyo.) significantly behind her opponent, a poll released Tuesday morning found. According to the Democratic firm Public Policy Polling, Enzi leads Cheney 54 percent to 26 percent among GOP primary voters looking ahead to the 2014 Senate contest...In the general election, Enzi has an even wider advantage against two potential Democratic opponents, leading popular former Gov. Dave Freudenthal by 54 to 31 percent and businessman Gary Trauner by 66 percent to 19 percent." [HuffPost]
CONSIDERING NATE SILVER - Much of political punditry has weighed in on Nate Silver's announcement that he will be leaving the New York Times and moving his FiveThirtyEight blog to ESPN. Here are four takes worth reading:
-GWU Political Scientist John Sides, reacting to NY Times Public Editor Margaret Sullivan's report that Silver's "probability-based" approach "went against the grain" for some at the Times: [I[f you read [Silver's] book closely, he is quite clear that the kind of data reporters (or baseball scouts) often gather—which is qualitative, not quantitative—is exceedingly valuable for doing what he does...In a section of the book called 'Weighing Qualitative Information,' he lauds the value in the in-depth interviewing of candidates that is done by David Wasserman and others at the Cook Political Report. Silver uses the ratings that Cook and others have developed in his own House forecasts and finds that they also add value. So the irony, as I see it, is that Silver faced resentment within the newsroom even though his approach explicitly values the work that reporters do." [The Monkey Cage]
-Political scientist Drew Linzer: "The greatest thing @fivethirtyeight ever accomplished was not forecasting elections. It was proving the market for data-driven news analysis." [@DrewLinzer]
-Matthew Yglesias: "[H]ere's the point. We had three approaches to the 2012 election: [1] The polls are right. [2] Nate Silver's quantitative analysis. [3] TV pundits pull guesses out of their asses. The outcome conclusively demonstrates that option number three is inferior to options one and two, but it also seems clear that if Silver's model represents an advance on simply looking at the polls it's not a very large advance....[M]ost of all, from a non-grumpy viewpoint Silver's success is a reminder that journalism is about more than getting the answers right....[Silver] not only came up with an election forecasting method that far outpaces the TV pundits but more impressively he found a large audience for it. " [Slate]
Ezra Klein: "The truth is that 2012 just wasn't a very hard election to call. The polling data all pointed in the same direction, even if many pundits refused to believe what it told them. The secret of the modelers — and it's not much of a secret — is that they listened to the polling data. Silver et al got the credit for calling the election right, but the bulk of that credit should really go to the pollsters, without whom none of the modelers could have made any calls at all." [WaPost]
TUESDAY'S 'OUTLIERS' - Links to more news at the intersection of polling, politics and political data:
-Jennifer Agiesta reviews recent polling on immigration. [AP]
-Harry Enten argues that issues will trump personality, which favors democrat Terry McAuliffe. [Guardian]
-Women, older Americans and those affiliated with political parties are the most interested in the royal baby. [YouGov]
-Nate Cohn reports on a North Carolina study showing that although voter ID laws have a disparate impact on non-white and Democratic voters, their electoral consequences "seem relatively marginal." [New Republic]
-Most Americans don't want to see Obamacare repealed, but think the implementation is going poorly. [National Journal]
-Josh Tucker shares a "retweet network" graphic showing patterns in Twitter chatter on the royal baby. [The Monkey Cage]
-Voters across the political spectrum like Southwest Airlines, while Amtrak proves more divisive. [PPP]
-The "Big Data PAC" doesn't report much. [FEC via @CampFinMoments via @KWCollins]
POLLSTER UPDATE VIA EMAIL! - You can receive this daily update every weekday via email! Just enter your email address in the box on the upper right corner of this page, and click "sign up." That's all there is to it (and you can unsubscribe anytime).