The ocean is a boundless world of wonder, but Caton the loggerhead sea turtle prefers land. After three failed attempts to return the turtle to her natural habitat, she's been deemed "unreleasable" according to a CNN report, and next week she's heading to a new home at Orlando's SeaWorld.
Story continues after photo.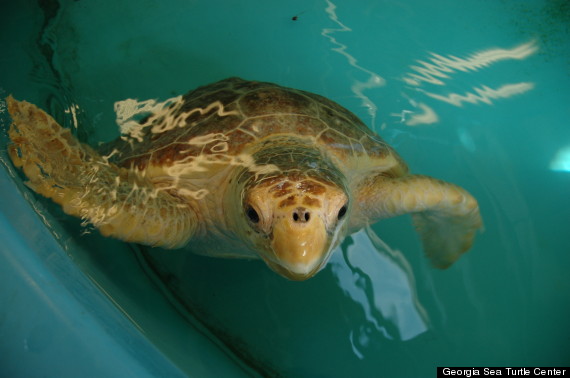 In 2009, Caton was found stranded and injured just off the coast of Georgia on Ossabaw Island, AP reports. The Georgia Sea Turtle Center spent months treating and rehabilitating her, but when she was finally considered healthy enough to return to the ocean, the center told CNN she just sat on the beach, refusing to get in the water.
Months later they tried again. This time Caton got in the water, but only swam back and forth for a while before getting stuck in a sandbar. The staff at the center thought they'd succeeded with a third attempt last October, when they released her from a boat offshore instead of on the beach. But it only took a week before Caton was back on Jekyll Island where the Georgia Sea Turtle Center is based.
The center then went to work finding her a suitable home outside of the ocean. Now Caton will be a part of SeaWorld's new sea turtle exhibit, TurtleTrek, Central Florida News 13 reports, serving as an ambassador of her species to the park's thousands of visitors every year.
The Georgia Sea Turtle Center's director Terry Norton told CNN, "She is a favorite of many of our visitors and I am confident she will hold a special place in the hearts of her new visitors."
H/T: CNN
BEFORE YOU GO
PHOTO GALLERY
Clingy Rescued Sea Turtle Gets New Home