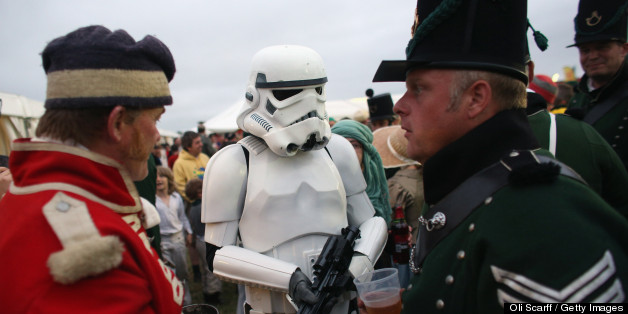 The stormtroopers in the "Star Wars" movies are notoriously bad shots, unable to hit Han Solo, Luke Skywalker or, well, anything else.
Turns out, they're also bad at history, as this photo from a recent historic reenactment festival in England proves.
More than 2,000 people showed up to the History Live event in Northamptonshire on July 20, and most were appropriately dressed in costumes specific to English military history.
That is, except for one person who chose to wear his Stormtrooper costume to the reenactment of the Battle of Hastings, according to the Metro.
This unidentified trooper isn't the only "Star Wars" geek whose head is in the clouds when it comes to history.
Back in April, a Stormtrooper in the U.S. crashed a Civil War reenactment in an equally historically inaccurate outfit, Neatorama reported.
Not ready to leave the dark side? Go ahead not "sith" through the photos in our Stormtroopers In Strange Places gallery:
BEFORE YOU GO
PHOTO GALLERY
Stormtroopers In Strange Places