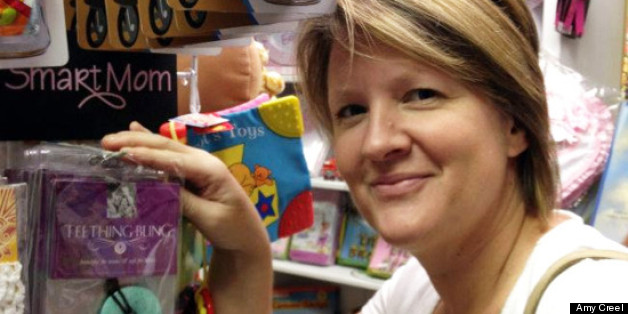 One of the reasons I started my website is that I wanted a place for women to come together and dream. We women need to know that we don't have to hang on to an old dream that has stopped nurturing us -- that there is always time to start a new dream. This week's story is about a woman who decided to launch a business she'd been thinking about for years, but only after a personal loss in her family truly drove home the importance of living in the moment and pursuing your dreams now, rather than later. -- Marlo, MarloThomas.com
By Lori Weiss
It was a moment that some might say was God given. It was a Sunday morning and Amy Maurer Creel was in church with her family. Her baby daughter, Alice, was sitting on her lap, seemingly content playing with Mom's necklace, when all of a sudden laughter broke out all around them.
"I was wearing a strand of pearls," Amy explained," "and Alice yanked on them. The pearls flew everywhere -- up and down the pews. I was so embarrassed. All I could think about was how to get out of there. Actually, I did have one other thought. I knew I had to create something that wouldn't break."
And almost immediately, Amy began doing research -- checking on patents other people might have and sketching out ideas -- but then, as it does for most new Moms, time ticked away and other responsibilities took precedence. Until one day, a tragedy made Amy ask herself, what exactly she was waiting for.
"My sister-in-law, Maria, had just had her first baby at 40 and we were all so happy. But then a week after she gave birth, she wasn't bouncing back. It got to a point where all she could manage was to sort the mail. She went to lie down and she never woke up again."
Marie died from a congenital heart defect that had gone undiscovered and the labor was too much for her.
"It was a profound turning point for me," Amy remembered. "She was just a few years older than I was, and I was acting like I had all the time in the world. I began to question what I was doing and what I should be doing."
"Maria grew up in Toledo, Ohio and moved to New York City because she dreamed of becoming a clothing designer. She worked day and night to make that dream come true and just two months before she died she had landed a job designing sweaters for Eileen Fischer. I realized after her death, that I'd never be able to do the things I wanted, if I didn't just jump in."
Article continues below slideshow
PHOTO GALLERY
Teething Bling
That was December of 2005. By the fall of 2006, Amy's rough sketches had morphed into a product she called Teething Bling -- jewelry that was fashionable, yet baby-safe, and would ultimately bring in more than a million dollars.
"I started going to jewelry stores, to get the ideas flowing," she said. "I needed to figure out how I could create something that would be esthetically pleasing to wear, but still be safe for babies to put in their mouths. And then I just began looking around my house at all our baby items. When my eyes landed on the infant spoons, I knew I had to find the material they were made from. They had a silicone coating on them, so if the baby bites down it doesn't hurt their gums. They were food safe and they could go into the dishwasher."
Amy went to the internet and found the material she needed. Now it was just a matter of having prototypes made up from her sketches. A few more clicks and she found a list of companies that seemed to be the perfect fit -- if only they would talk with her.
"Most of the people I called weren't interested because at that point, my product didn't exist. But then I found a woman who said they could definitely help me, but they'd have to charge me $10,000. That was daunting, because I really didn't have that kind of money. But then she suggested someone who was much smaller and could do what I needed at a fraction of the cost. This complete stranger helped me. I never could have done this had she not made that introduction."
And once Amy made that connection, all the pieces began to fall into place. The person who helped her with her drawings guided her to a manufacturer and soon after, Teething Bling was born. She ordered 4,000 pieces and officially became a mompreneur.
"And there they were, 4,000 necklaces, all sitting in my basement," Amy laughed. "I hadn't even thought about packaging! I had a friend of a friend build a very basic website for $500 and I began doing local craft shows. I spent four years working from my basement, putting each necklace in its own little jewelry box and printing labels. I was going to the post office six times a week."
With a little success under her belt and packaging that could actually go on store shelves, Amy decided it was time to take the next step and made her way to trade shows, hoping to get her baby-proof bling into a national chain.
"And that's where I made my first big mistake," she sighed. "I met a woman who claimed to be a buyer for the Army and Air Force Exchange and she placed a $70,000 custom order for camouflage necklaces. That was huge and it totally blew me away. I put $20,000 into production costs and sent her a broker fee, along with travel expenses. And then I sat in my garage and waited for them to be picked up. The truck kept being delayed and delayed, until finally I got suspicious and called the exchange's headquarters.
As it turned out, they knew exactly who this woman was -- she was a scam artist, who'd fooled others before Amy.
"I sued her and won, but I never saw a dime. But what I did get was an important lesson. I tend to be very trusting, which is a good quality in my personal life, but maybe not so much in my business life. I grew up really fast after that. And I also learned that a real distributor won't ask for money up front. They'll actually sign an agreement that guarantees they'll sell a certain amount of product."

"I definitely had some dark days after that. I wondered whether I was cut out for this. I questioned myself, but what I never questioned was the idea or the product and that's what kept me going."
What also kept Amy going was the support of Mommy bloggers and the success she'd see from placing her product in the gifting suites that celebrities frequent during awards season.
"Mommy bloggers really embraced Teething Bling," Amy said. "They'd write about it, and then Mom's groups would get in touch with us. I'd send them samples and they'd give me feedback about designs and colors they'd like to see. They had so many great ideas and they were gratified to have someone who wanted to know what they had to say. So often the stay-at-home community feels overlooked. They wanted to be part of this and to see it succeed."
"And I have to say, the first time I saw a celebrity wearing my jewelry, I was screaming! I sent someone to give away samples in a gifting suite just before the Oscars. I couldn't go because one of my kids was sick, but they promised to send pictures. And the first one that came through was Angela Bassett! I couldn't believe it was really happening."
And there was a lot more to come. Between the trade shows, Mommy support and celebrities who were sighted wearing Teething Bling, stores like Target and Buy Buy Baby began calling. Now Amy has distributors around the world and she gives a portion of her proceeds to Dress For Success, a charity that provides professional attire to women trying to break into the workforce -- a tribute to her determined sister-in-law who never gave up on her dreams.
"Maria helped me to see that we can create the life we want," Amy said softly. "And I hope that by doing this, I can pass that on to my daughters, Alice and Daisy, and to Maria's daughter Emma, who is seven now. I want them to see that anything is possible."