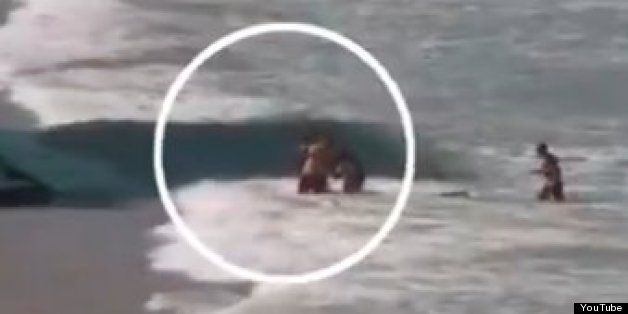 Tragedy stuck a beach in northeastern Brazil on Monday when a drowning teenager was fatally bitten by a bull shark seconds before a lifeguard on a personal watercraft arrived to rescue her.
According to CNN, Bruna Gobbi, 18, succumbed to a severe bite wound on her left leg and died the night following the attack. Gobbi and her cousin had been swimming at Boa Viagem beach near Recife when they began to drown.
Graphic footage of the attack published by Brazilian website Corrieo briefly shows a red cloud of blood on the water shortly before a lifeguard arrived on the scene.
Additional eyewitness footage of the attack's aftermath shows Gobbi's left leg with the flesh shorn off to the bone (NSFW). The footage appeared on uncensored video site Live Leak.
According to The Huffington Post's translation of a Globo TV report, lawmakers in the state of Pernambuco have recommended a ban on swimming along parts of the coast in response to the attack.
Fifty-seven people have been attacked by sharks in Pernambuco since the state began keeping track in 1992, and 40 percent of those attacks have happened at Boa Viagem beach, CNN reported.
WARNING: Graphic Video

BEFORE YOU GO
PHOTO GALLERY
Where Shark Fin Is Banned