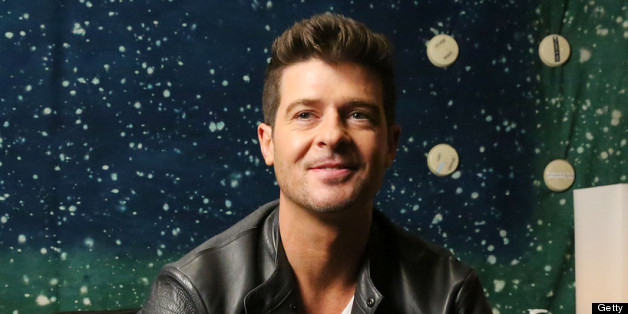 Robin Thicke shows no signs of stopping. The 36-year-old singer released his hit single "Blurred Lines" this spring, and the Pharrell-produced track just set a record for the year.
By topping the Billboard Hot 100 Singles chart this week, "Blurred Lines" now holds the title of the single with the most weeks spent at the No. 1 spot on the chart for 2013, according to Billboard. With seven weeks at No 1., "Blurred Lines" beats out Macklemore's "Thrift Shop," which dominated for six weeks beginning in February.
Thicke is up against overall record-holders Maroon 5 whose "One More Night" led the Hot 100 for nine weeks in 2012. Other contenders include Gotye's "Somebody That I Used to Know" which held for eight weeks last year.
The lead single off of Thicke's upcoming album, "Blurred Lines" has already been certified multi-platinum. The track has also been a controversial one, prompting criticism from some who felt the lyrics were questionable and misogynistic. The uncensored music video to "Blurred Lines" takes it a step further, featuring naked female models.
The music video's director, Diane Martel, responded to the criticism upon the release of the video, saying, "I wanted to deal with the misogynist, funny lyrics in a way where the girls were going to overpower the men... It also forces the men to feel playful and not at all like predators. I directed the girls to look into the camera, this is very intentional and they do it most of the time; they are in the power position. I don't think the video is sexist. The lyrics are ridiculous, the guys are silly as f--k. That said, I respect women who are watching out for negative images in pop culture and who find the nudity offensive, but I find [the video] meta and playful."
PHOTO GALLERY
Pharrell & Nude Models (NSFW)
BEFORE YOU GO