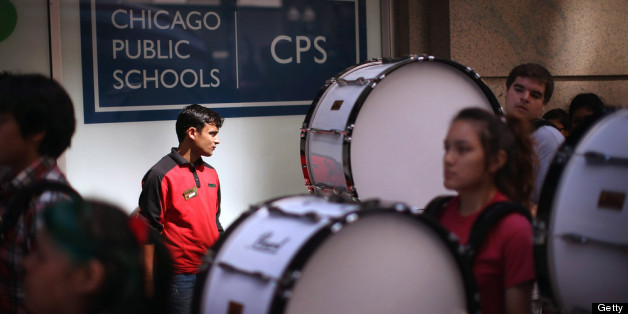 By Brendan O'Brien
July 24 (Reuters) - Chicago's public schools on Wednesday forecast a record $1 billion fiscal 2014 budget deficit despite layoffs of 1,000 teachers and the expected closing of 50 schools, prompting one credit agency to downgrade its debt rating.
The nation's third-largest public school district blamed the mounting red ink on an expected sharp rise in annual pension payments for teachers, because the state of Illinois has failed to curb ballooning pension costs.
The district also said that salary increases negotiated last September to settle a bitter strike with the Chicago Teachers Union contributed to the budget deficit.
Chicago schools said in a statement that it would slash administrative costs and tap financial reserves to help balance the 2014 budget, forecast to total $5.6 billion.
In May, the Chicago Board of Education approved closing 50 schools, including about 10 percent of all elementary schools - in the largest mass school closing in U.S. history. Two federal court lawsuits have been filed by the teachers union in an attempt to halt the closings.
Last Friday, about 3,000 school district employees were laid off including more than 1,000 teachers.
Chicago student enrollment has been falling for years in part because of residents moving out of the inner city, leaving mostly poor neighborhoods with predominantly African-American and Hispanic students.
Dozens of teachers, wearing red union T-shirts, protested the layoffs and school closings on Wednesday at Chicago City Hall, and Mayor Rahm Emanuel and the City Council met.
Moody's Investors Service on Wednesday downgraded the rating on the Chicago Board of Education's general obligation debt from A2 to A3 in response to its fiscal struggles. The Board of Education issues bonds for the school district.
"We see the direction of the credit profile for the district and the city trending in a more negative direction at this time," said Rachel Cortez, a Moody's analyst.
The state of Illinois faces an unfunded pension liability for state and local workers of some $100 billion but has failed to rein in the ballooning costs. This has had a domino effect on the city of Chicago, which manages its pensions separately but has suffered debt rating downgrades along with Illinois. (Reporting by Brendan O'Brien; Editing by Greg McCune and Cynthia Osterman)
BEFORE YOU GO
PHOTO GALLERY
Chicago School Closings