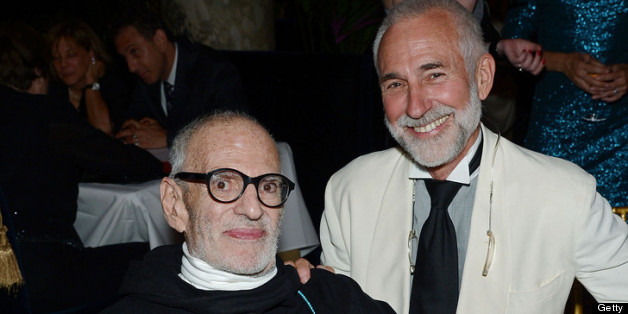 Congratulations to Larry Kramer, who tied the knot with longtime partner David Webster.
The "Normal Heart" playwright and outspoken lesbian, gay, bisexual and transgender (LGBT) rights advocate, 78, married Webster, 67, in a bedside ceremony in the intensive care unit of NYU Langone Medical Center, according to The New York Times. Although the July 24 ceremony had originally been set to take place at the pair's Greenwich Village apartment, Kramer was recovering from surgery for a bowel obstruction.
Two dozen friends and relatives attended the ceremony, led by Judge Preminger, according to the Times. Kramer was unable to attend the following reception at Riverpark, although Webster has vowed to "have a party once he's out of the hospital."
Read more about the ceremony in the Times report here.
Kramer had hinted at the forthcoming nuptials in an interview with Parade magazine, published July 24, saying he and Webster, who have been together since 1995, were planning to get married "as soon as we can" following the U.S. Supreme Court's rulings on the Defense of Marriage Act (DOMA) and Prop 8.
"You know, they gave us what we deserved, but they kept back some really important stuff. So, I'm not going, 'Glory, hallelujah,' like everybody is," Kramer said of the SCOTUS rulings in the interview. Still, he added: "I was terrified that I'd die and David would have to give so much money to the government from our house that he wouldn't have any money left."

BEFORE YOU GO
PHOTO GALLERY
Celebrity LGBT Families