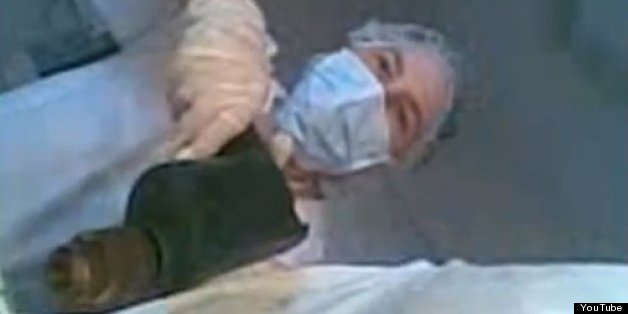 A graphic video alleging doctors at a children's hospital in Moldova were using common power tools to operate on patients has prompted outrage as well as skepticism in the small, desperately poor ex-Soviet nation.
The short clip, which appears to show doctors using an electric drill and other power tools during surgeries, is said to have been filmed at the state-run Ignatenco children's hospital in Chisinau, Moldova's capital city, according to Russian news site RIA Novosti. The video was obtained and posted online by local paper Panorama, RIA Novosti adds.
In the beginning of the video, doctors and nurses appear to be operating on a sedated patient's elbow. A power drill is clearly visible during the procedure and the ones that follow. At one point, the bit of the drill appears to get stuck in a patient and has to be pulled out by a nurse wielding pliers.
Doctors from the hospital told television news channel Publika TV that they had indeed used "construction tools" while operating, reported The Times of London.
"We've used this drill for decades and all our hopes of getting medical equipment to work with are ending without success," doctor Nicolæ Curca said, according to Euro News.
The footage was broadcast widely on local television networks Monday, reported Reuters, prompting Prime Minister Iurie Leance to order Healthcare Minister Andrei Usatii to investigate the incident.
In a short interview with Moldovan station Publika TV, Usatii said he didn't think construction tools were used in the video, and that an investigation of the hospital turned up nothing irregular, according to a translation by The Huffington Post. Usatii speculated that the video had been leaked in an attempt to discredit the hospital, according to Publika.
(Hat tip, MSN)
WARNING: Graphic medical footage.