With summer in full force, we're all looking for ways to stay cool. But if you're a model, there is no need to look too hard as Modellounge X Microsoft have you covered. Their summer hangout at Hotel Gansevoort in New York's Meatpacking District is an enclave for top models to beat the heat.
Located on the hotel's rooftop, the private space is the perfect destination to relax, swim and, of course, chow down. Though you need to be a model for exclusive access, we were able to finagle our way inside to catch up with some of the beauties at the summer hangout.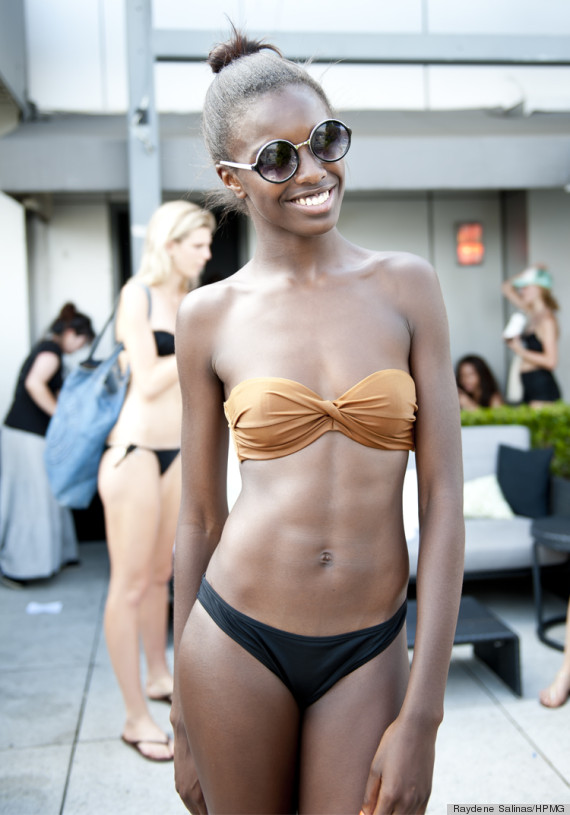 Name: Leomie Anderson
Standout model moments: Walked the runway at Marc by Marc Jacobs, Giles and Ungaro.
Summer beauty must-haves: Evian Mineral Water Spray. "It's so refreshing and doesn't mess up your makeup. At Sephora, they're two for $12 right now and they fit in your bag perfectly -- you can spray it everywhere and sometimes if I'm thirsty... I spray it in my mouth! I also always wear mascara (Maybelline Falsies) but in this heat, I never put it on my bottom lashes because you end up looking like Kiss."
Summer trend she's sick of: Tie-dye. "It's just overdone. I'd rather see color blocking and clashing prints as opposed to tie-dye."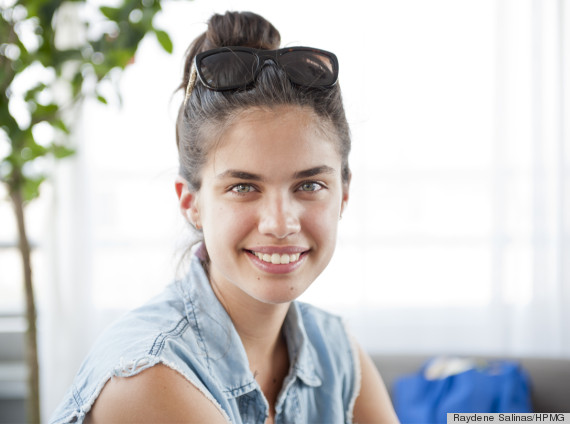 Name: Sara Sampaio
Standout model moments: Posed for Victoria's Secret and appeared in magazines like Vogue, Elle and Glamour.
Summer fashion rule: Wear as few clothes as possible and no pants. "I love crop tops, high-waisted shorts and dresses."
Summer style don't: "I don't wear anything with flower patterns."
Best summer beauty tip: "It's the time [of year] when you can barely use any makeup, but I do love a red lip. Your tanand skin is glowing and the lip just pops. I just got this amazing matte lip pencil from NARS called Mysterious Red. It's the perfect red -- I bought two in case they run out!"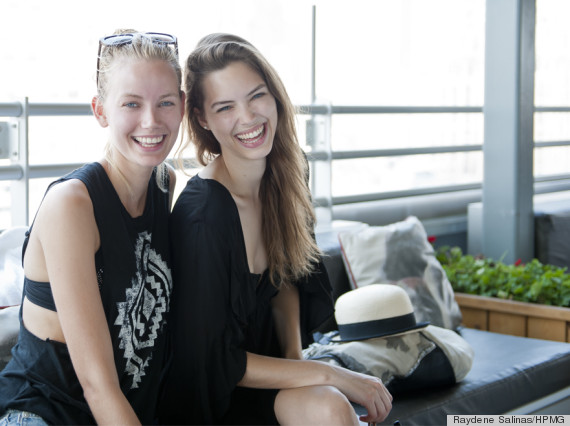 Name: Fardau Van der Wal (pictured left)
Summer fashion staple: Light dresses.
Favorite summer escape: "I love peaceful places like the park where you can sit down, rest and get some shade."
Name: Veronica Zoppolo (pictured right)
Summer beauty routine: "I don't use any products in the heat, just water. I would never put on makeup because it would melt off. Sunblock is the one thing you should put on."
Best summer tip: "Stay hydrated and get good sleep. Sometimes when you think you're really hungry, you might just be really thirsty. So have a glass of water first and then decide how hungry you really are."
More photos of this summer hangout for models:
PHOTO GALLERY
Modellounge X Microsoft's Summer Model Hangout
Want more? Be sure to check out HuffPost Style on Twitter, Facebook, Tumblr, Pinterest and Instagram at @HuffPostStyle.