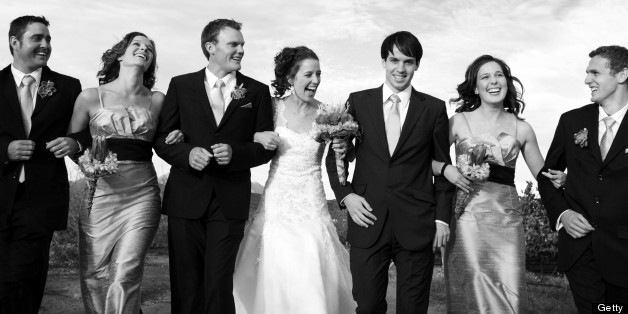 You've picked a wedding date (yay!) and now it's time to start choosing your wedding party (groan...). In theory, this should be an exciting task -- a chance to round up your very favorite people to surround you on the happiest day of your life. But the reality is, you can't choose everyone, and between your siblings, your cousins, your childhood friends, your high school besties and your college roommates, you're going to need to make some cuts. So how do you narrow it down to the right handful of people -- the ones that will make things easy and fun, not the ones who will stress you out and wear you down?
Below, six wedding experts share their advice on how to take the stress out of choosing your bridesmaids and groomsmen.
"Choose people who want to be in your wedding, and who you want to be in your wedding. Period. Don't choose out of obligation (you were in their wedding so obviously you must return the favor), don't choose because your mom is guilting you into selecting cousin Betsy who you never see from east bumfu*k, and certainly don't choose just anybody to 'even it out' for the damn photographs. It's fine if you have four girls and he has five guys no, really... It is! But, most of all? Before you even begin the selection process ('cause I think that we have just established that it's a process), manage and communicate your expectations to the lucky bunch, and give them an out before they begin... That way, you'll still have friends after the wedding." - Bitchless Bride, wedding planner
"Limit your bridesmaids and groomsmen to family and those special friends you consider as close as family. Less can sometimes be more. It's your day, so don't feel pressured to invite someone just because they invited you. If you're on the fence about including someone, it's better in the long run to just invite them as a guest!" - Leila Lewis, Inspired by This blogger

"The first step to not getting stressed out, about anything, is to stop seeing it as a stressful situation. The second step is recognizing the progress you've already made. You and I both know you've chosen at least two must-have attendants in your head, whether you've asked them yet, or not. You can always stop there, and make it work. No? Then here's the third step to taking the stress out of the decision: don't make stressful choices. Don't ask the person you know is going to be really, really upset if you don't ask them. If they're going to turn your wedding day into a personal referendum, that's only going to get worse as it gets closer. Who needs the drama? Don't ask the person you're not sure can swing it, whether they're pregnant, taking the bar around the time of your wedding, just went through a bankruptcy/foreclosure, living in Outer Mongolia, whatever the reason. If you think your wedding is going to be a heavy pull for them, don't add to the pressure, or to your own uncertainty. And finally, don't ask anyone that you haven't shared a laugh with, at least once. Fun is a wedding essential, so pick someone that you know you can have fun with. After all, that's the reason you're all there, right? Right." - Liz Coopersmith, founder of Silver Charm Events
"I think the key is to choose a bridal party based on who you're closest to, not on who you feel etiquette requires you to ask. The day of a wedding (and the months beforehand) can be so stressful to a bride and groom. If you're surrounded by a good support system within your bridal party it can make all the difference. Just remember that every new person you involve in that day adds new energy (and sometimes not the good kind) so select carefully and thoughtfully and be ok with whatever you choose even if that only means one or two attendants for each of you." - Rachel Hollis, founder of Chic Events
"There is no right or wrong answer. To create a somewhat stress-free affair, follow your heart and desires. Keep in front of you that this is your day and everyone will eventually understand. You are making memories and they come from the love that you want to share with friends and family, so again follow your heart! There are a number of ways to have those you love participate in the wedding without having them in the bridal party. Giving people special assignments or tasks for the ceremony -– a special reading, or ushering guests to seats, or greeting guests and handing out ceremony programs –- are always ways that make loved ones feel a part of the big day. Or if you want to keep the actual bridal party small, have a section in the first row for all those special friends reserved to honor them. Another way to smooth over any hard feelings for people who thought they should have been best man or maid of honor is to assign them a task that would be normally carried out by one of those two. We all want to make those special to us feel important. If you have dear friends and are not certain how to handle them, have a luncheon in their honor and let them know they will be seated in the front row and the wedding wouldn't be a success without them." - Sharon Sacks, president and founder of Sacks Productions
"Anything goes at a same-sex wedding. You can mix it up and have opposite-gender individuals as your attendants. You don't have to have any attendants at all. You can 'share' attendants. Why not? Over half of the weddings I've planned have not had wedding parties -- and that's perfectly wonderful because it keeps the emphasis on the couple. That said, if you're planning a same-sex wedding, there's a good chance you'll be asking a lot less of your attendants than your straight counterparts would, especially if you are skipping over traditions like wedding showers and bachelor/bachelorette parties. Whatever you decide with regards to attendants, remember that you never choose anyone out of obligation and only choose people who love and support you." - Bernadette Coveney Smith, gay wedding planner and founder/president of 14 Stories
Keep in touch! Check out HuffPost Weddings on Facebook, Twitter and Pinterest.
BEFORE YOU GO
PHOTO GALLERY
Top 25 Wedding-Planning Tips from Real Couples