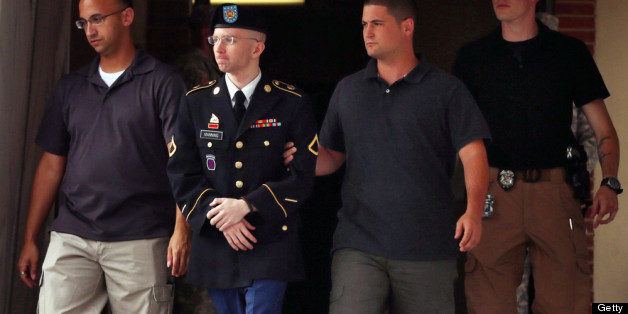 FORT MEADE, Md. -- Look closely at the video of an Army helicopter gunning down civilians in Iraq. Look at it through the fresh eyes of a 21-year-old humanist a few weeks into his deployment, Bradley Manning's defense attorney told the judge during closing arguments in his trial on Friday.
What you will not see are what Maj. Ashden Fein, a prosecutor, antiseptically described as "the actions and experiences of U.S. service members conducting a wartime mission." As David Coombs, Manning's defense attorney, played the famous "Collateral Murder" video, he said, "We just saw at least nine lives extinguished. Did they all deserve to die?"
The Apache pilots cracking jokes during that video may have been able to disconnect, Coombs said, but not Manning. "You disengage from a difficult thing so that you can go to bed at night and sleep," he said, "but what do you do when you can't disengage?"
As Manning's trial reached its close on Friday, Coombs calmly delivered a two-and-a-half hour argument that his client was a "good-intentioned," sensitive young man who deliberately selected his leaks for the public's benefit because he couldn't look away.
It was because of the horror he felt at incidents like those in Apache video -- and not because he is a fame-seeking "anarchist" as the government alleged in its closing arguments -- that Manning did what he did, Coombs said. After playing selections from the cockpit video, Coombs went on to address the government's case against his client point by point. Their arguments, he said, amount to "the logic of a child."
Manning is the private first class who has been charged with 22 offenses for sending WikiLeaks 700,000 files. If convicted on the most serious of these charges -- aiding the enemy -- he could go to prison for life.
After Manning's lawyer ended his closing argument, Fein, the government prosecutor, was offered one more chance to rebut the defense's case. Spelling out what he thought Manning should have done if he were truly a whistleblower, Fein concluded that, "Instead of the American flag, he placed his trust and confidence in WikiLeaks and Julian Assange."
Because Manning has chosen not to be tried by a jury of military officers, the presiding judge, Army Col. Denise Lind, will decide his fate. Before the trial went into recess on Friday, she announced that members of the press and public would be given one-day notice once she has reached a verdict.
WARNING: Graphic video content below.
BEFORE YOU GO
PHOTO GALLERY
Guantanamo Bay Revelations From WikiLeaks