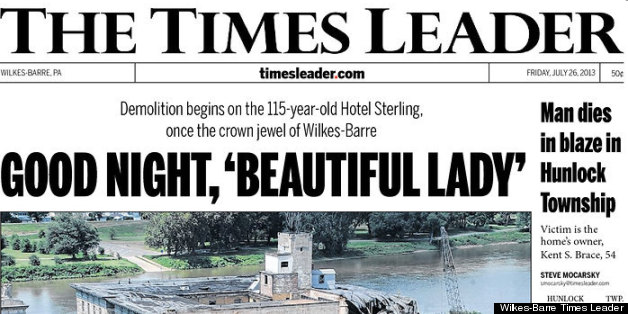 One newspaper editor in Pennsylvania was surprisingly frank when it came to changes in the newsroom.
Joe Butkiewicz announced his decision to resign from his post as the executive editor of the Wilkes-Barre Times Leader on Wednesday, saying that his style was preventing "progress."
"I think I need to step out of the way and let it go the way the company wants to go," the 55-year-old Butkiewicz told the newspaper. "It's hard because I love so many aspects of it. But I do think that in my old-fashioned way, I'm in the way of progress."
The Times Leader recently outsourced the design and layout of its pages to a hub that does the pagination for multiple newspapers owned by its parent company Civitas Media. Earlier this month, Butkiewicz explained changes in the newspaper's appearance and acknowledged that "the transition here has not been without some pain," but insisted that "good" work "can be done."

He later cited the change when discussing his decision to resign. "An editor needs to be responsible for what appears in print or online," he told the the Scranton Times-Tribune. "I don't feel I have control over the final result."
Gannett utilizes a similar system for pagination. In 2010, the company began to implement a plan to build five centers over the following two years to handle pagination for 81 newspapers across the country.
BEFORE YOU GO
PHOTO GALLERY
25 Biggest U.S. Newspapers In 2012