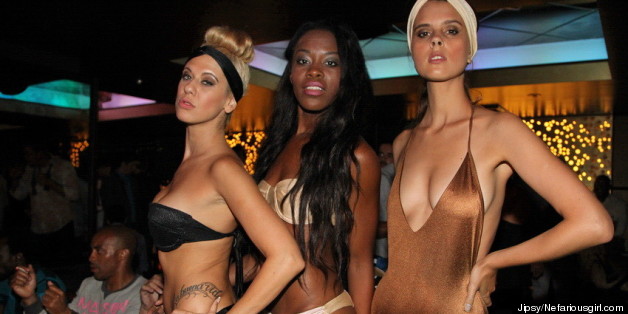 BY JIPSY, NEFARIOUSGIRL.COM
Now that it's all over and a few of the 2014 swim collections have been made public, all we are left are the pictures and memories of another season behind us.
My memories of the 2014 Swim Season started off like everyone else's: hot, steamy and wet. And like a roller coaster, the next five days were non-stop. The annual fashion week is always right smack in the middle of the dog days of summer and my body tries to keep cool by sweating out of every pore. Thankfully, every show at Mercedes-Benz Fashion Week Swim was stocked up with Evian, a major sponsor this year, who provided newly-designed bottles filled with that natural spring water everyone needed to rehydrate.

Taking breaks is part of the glamour, and there is always a lounge or quiet showcase on the agenda. These lounges are usually a place to relax and get a cocktails, have some personal pampering done and possibly run into a celebrity or two. I had the chance to visit the Mercedes-Benz Star Lounge at The Raleigh for a cocktail and a quick meeting, then the Ford Artists Lounge at Soho Beach House, where I had a much needed foot reflexology massage, and the now annual Lifestyle Retreat Lounge held this year at The James Royal Palm where I met Betsey Johnson, grabbed a bite to eat and snapped a shot of Sports Illustrated swimsuit model Nina Agdal.
PHOTO GALLERY
Swim Week 2014 Photos
One morning I made a stop at the Tory Burch breakfast. Their swim collection is already out on the market, but who doesn't like a party like I do? Guests enjoyed mimosas and light bites while they took notes and made plans for the day's shows and runarounds.
But most of my time was spent at the tents aka The Raleigh Hotel for Nicolita, Poko Pano, Dolores Cortes and Mara Hoffman and 6 Shore Road. There were many industry people at the shows, which is always a plus in my book. Buyers, writers and several top stylists sat front row taking notes not only on the new collections but everything that came down the runway. Bloggers were in full effect with cell phones and cameras in hand, photographing every trend on spectators as well as the models who walked down the runway.

Outside the tents, there were two lines I made a point to find. One was the brand new Adrift who only showed 3 pieces of a 12 piece collection that included headbands, and for a first collection that's made right here in the U.S., the cuts and colors are all glamor and cater to my Rich Lady persona.

The other design house was Chromat, who've already been worn by Nicki Minaj in 2011 so the word is out. This brand is everything I dream of when I go to sleep. They make bondage leather harness, head pieces and caged skirts. Their swimsuits are from the same inspiration as worn by synchronized swimmers Verso Performance, who donned the Pentagram Suit II for their show. Also keep an eye on their crowns, like the one worn by Cuci of Afrobeta while performing at the brand's presentation at Freehand on the closing night of Swim.

So another swim season done. Ladies, there are plenty of choices to make when you are poolside or the beach. Have fun with your colors and cover ups, and remember to use that SPF freely and frequently. Enjoy the rest of the summer and see you all by poolside under an umbrella. -- JIPSY