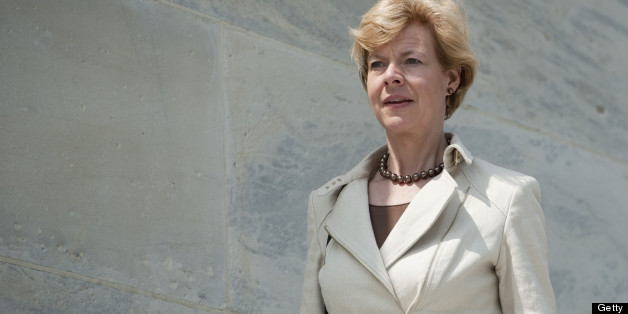 Senator Tammy Baldwin (D-Wis) said she was "pleasantly surprised" by the vote in a key committee recently on the Employment Non-Discrimination Act, which would ban discrimination based on sexual orientation and gender identity, and believes it's an "encouraging sign of what's to come" regarding getting the historic legislation passed with the 60 votes needed in the U.S. Senate.
Baldwin, a former House member and the only openly gay or lesbian member of the Senate, has championed the legislation and discussed ENDA as well a criticism by some LGBT advocates of a religious exemption in the legislation, in an interview with me on SiriusXM Progress this week. (Scroll down to listen to the interview)
"Let me take the committee mark up as a hint of what is to come," she said, referring to the vote the 15-7 vote by the Senate Health, Education, Labor and Pensions Committee two weeks ago. "Because I have to tell you, as a former House member, I came to the executive session we held on the bill ready for a lengthy debate we'd have on the bill. I came prepared to argue against amendments that would undercut ENDA. I was so pleasantly surprised by how smooth the executive session went. In the end we were hoping to pick up some additional Republicans who hadn't previously voiced public support for ENDA. In fact we picked up two addition Republicans. The vote was 15-7. That, I think, is a very encouraging sign of what's to come."
Baldwin went on to say that the road to victory, however, would not be easy.
"I'm not suggesting it's going to be smooth sailing," she said. "There will be people who will try to offer amendments and slow this down or try to gut it. But I feel there was strong bipartisan support for the bill. Now we still have work to do. If we were to hold all Democrats we'd need additional Republicans to join our efforts. It's not clear that we'll hold every single Democrat in the Senate. So then we'd have to get even more Republicans. I hope that by autumn we'll be very confident that we'll have 60 votes when we go to the floor."
Speaking about concerns by groups such as the National Center for Lesbian Rights and the American Civil Liberties Union about religious exemptions in the bill which the groups believe go too far, Baldwin said the current bill was a "starting point" in the Senate.
"I share concerns that have been voiced about the specific language in the Senate bill on religious exemptions," she explained. "But it's very clear when the coauthors and others were coming together in preparation for introducing the bill, that it would have a lot fewer cosponsors if that language wasn't in. Legislating is about compromise. And it's one of the compromises that were made. It's a starting point in the U.S. Senate."
President Obama has called on Congress to pass ENDA, while still rebuffing calls by activists urging him to sign an executive order banning discrimination against LGBT people among federal contractors. It's unclear that ENDA will get a vote in the Republican-controlled House, however, if it passes the U.S. Senate.
Listen to the full interview with Baldwin below:
BEFORE YOU GO
PHOTO GALLERY
Biggest Political Hypocrites