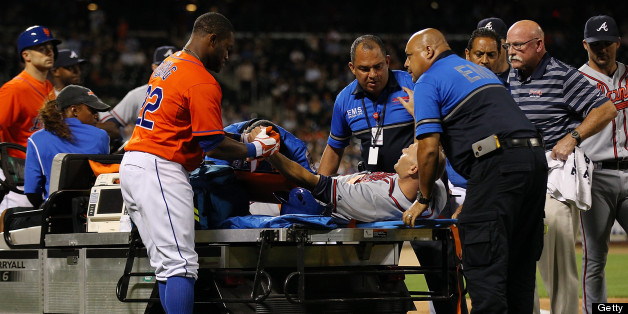 Kimberly Hudson is the wife of Atlanta Braves pitcher Tim Hudson. Eric Young Jr. is the New York Mets outfielder who fractured Atlanta Braves pitcher Tim Hudson's ankle on Wednesday. It would make sense if these two weren't exactly on speaking terms, yet a day later Kim kindly replied to an apologetic tweet from Young, even thanking him for the way he played the game.
@EYJr Thank you for playing the game the right way. You're obviously one of the good guys. We appreciate you.

— Kim Hudson (@kimberlybhudson) July 25, 2013
Hudson was injured in the eighth inning of the Braves' 8-2 win over the Mets on Wednesday when Young stomped on his ankle during a bang-broke play at first. With Hudson clearly injured on the play, Young became visibly emotional as EMS workers removed the pitcher from the field.
"I'm hustling down the line like I always do, going for the base," Young said after the game, via ESPN New York. "I saw his foot, as I'm going for the base, right there in the middle, as I came down, I knew I didn't get any of the base. I know I got all of his foot. I pretty much knew it was probably broke right as I did it, and that's why I sprinted right back to him and tried to console him as much as I could and apologize."
WATCH: Tim Hudson Fractures Ankle During Play At First Base
Aside from replying to Young, Kim also took time to thank both the Braves and Mets for their response to the gruesome injury.
Can't say enough great things about the @Mets organization and the way they handled Tim's injury: players, medical team, security #grateful

— Kim Hudson (@kimberlybhudson) July 25, 2013
So thankful to the @Braves trainers, doctors, players, coaches & staff for their hard work & compassion with Tim's injury. #family

— Kim Hudson (@kimberlybhudson) July 25, 2013
Based on a subsequent tweet from Young, not everyone was as willing to trust that the injury was an unfortunate accident as the Hudson family.
For ppl who think I would purposely try 2 hurt someone,& felt they needed to say that 2 me...I will continue 2 pray for u as well.#godbless

— Eric Young Jr (@EYJr) July 25, 2013
BEFORE YOU GO
PHOTO GALLERY
2013 MLB Season Highlights