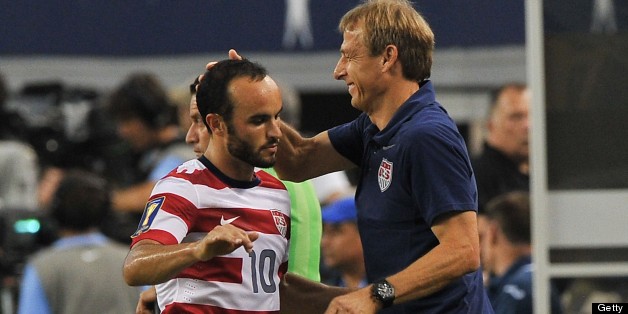 By Alex Labidou, Goal.com

CHICAGO -- After Landon Donovan returned from a four month sabbatical away from soccer with a desire to play for the United States national team again, Jurgen Klinsmann made it very clear what he expected.
"We had honest conversations about it," Klinsmann recalled. "And I told him, 'I want the best Landon ever. I'm not happy with anything less.'"
That challenge would present itself when Klinsmann finally brought Donovan back into the fold as a call up for this summer's Gold Cup. In the pre-World Cup years of the tournament, CONCACAF teams typically bring in young prospects and hungry players who are fighting for the last few remaining places for a chance at the World Cup. Many players similar in stature to Donovan, who is the U.S.'s all-time top scorer, would hesitate at the request.
Instead, Donovan embraced Klinsmann's test and responded by being the tournament's most valuable player, with five goals and six assists. The Los Angeles Galaxy star admitted that he's enjoyed having a chance to see some of America's top soccer prospects first hand and help in guiding them.
"I've enjoyed myself tremendously. I've enjoyed helping the younger guys and being part of a team that has no ego," Donovan explained. "It's been really fun to be a part of."
Considering the U.S.'s struggles on offense earlier in the year, Klinsmann received some criticism for not including Donovan when he initially returned to Los Angeles in March. In hindsight, it appears that the former Germany boss has made the right decision.
Fresh off losing to Honduras in the USA's opening match of the Hexagonal in February, Klinsmann risked his job by leaving Donovan out for the next set of qualifiers, but the team managed to get impressive results without him. By Klinsmann publicly commenting and saying that he saw players ahead of Donovan on the U.S. depth chart, it forced one of his best players to reflect on how to improve.
"It was his choice to take a little bit of time off, to get a little bit of a distance. He knew that his only way back into this group is through hard work," Klinsmann stated. "It goes through good performances and showing it on and off the field. Because of what he achieved in the past, his benchmark is higher than a lot of the other guys."
Donovan acknowledged that Klinsmann's message had its effect in an earlier interview with Goal.
"No one is entitled to anything in this game. That's become very apparent to me," Donovan said backl in May. "I think for a lot of years, I got the benefit of the doubt. If I wasn't playing well, I'd still get called in. It's a nice feeling to have to earn it."
Now, with the U.S. on a record 10-game winning streak and becoming more and more dominant with each match, it will be interesting to see how Klinsmann reintegrates Donovan back into the fold.
The team's chemistry is still very delicate but there's no denying what the forward brings to the table with his ability to score goals and create. It's a difficult challenge but one that the U.S. boss surely embraces as his roster continues to become stronger heading into next year's World Cup.
Follow Alex Labidou on Twitter
BEFORE YOU GO
PHOTO GALLERY
USMNT Winning Streak: Highlights