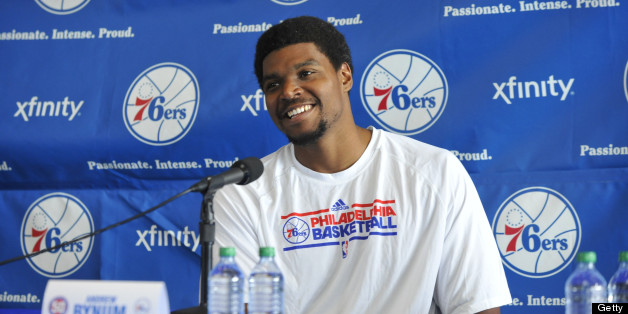 Philadelphia 76ers CEO Scott O'Neil was candid and straightforward in a recent radio interview when addressing fans' outrage over 2012's Andrew Bynum debacle.
The 76ers traded Andre Iguodala, Nikola Vucevic, and Moe Harkless for Bynum in August of 2012, but the All Star center never saw the court due to his injured knees.
O'Neil, who was named the new Sixers CEO earlier in July, seemed to understand the fans' frustration, and apologized while speaking to Angelo Cataldi of 94 WIP-FM. Via the Philadelphia Inquirer:
"I apologize on behalf of the Sixers to any fan, who invested and thought Bynum was going to be their guy and be the savior. At the end of the day, that's our apology, to every fan, not just to you. However, we're going to take some chance when we can take some chances, and sometimes they're not going to work. And sometimes they are. When they don't work, the last thing—we're not going to ever talk about a player negatively. That's doesn't help us, or the franchise, or the fans. It doesn't help us recruit, it doesn't help go out and grab free agents, it doesn't help us when we're evaluating talent, it doesn't help us when we're talking to coaches—it just doesn't help."
The 76ers finished 34-48 last season after having made the Eastern Conference Semifinals in 2012. Bynum recently signed a two-year deal with Cleveland.
BEFORE YOU GO
PHOTO GALLERY
NBA Post-Game Playoff Style