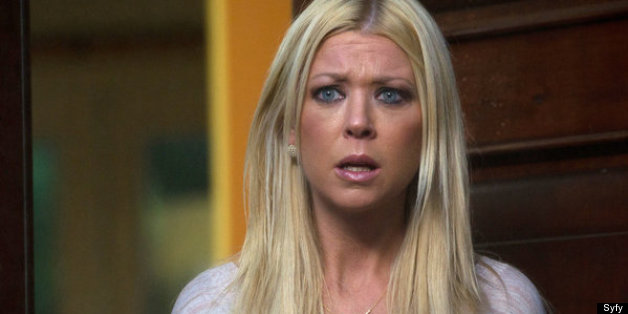 Tara Reid's "Sharknado 2" future is up in the air.
According to TMZ, sources close to production said producers only want Ian Ziering back for the sequel. However, a rep for Syfy told The Huffington Post no official casting decisions have been made for "Sharknado 2."
Reid took to Twitter to dispute the report.
There is no script for sharknado 2 until i read it then i will make a decision but everyone that is saying i got cut that is not true#liars

— Tara Reid (@TaraReid) July 28, 2013
Additionally, a producer for "Sharknado" debunked the report. "The short answer is: Nope. Tara is invited back," David Latt told The Hollywood Reporter. "Honestly, I don't know where that [TMZ story] came from."
In the first "Sharknado" film, Reid played Ziering's estranged wife.
"Sharknado" took the Internet by storm in early July. The Syfy original movie was set in Los Angeles and and saw sharks sucked out of the ocean and raining down on the city. Following the movie's success, Ziering and Reid both said they'd like to return for a sequel. The network quickly greenlit a sequel, "Sharknado 2," set in New York City.
"Every once in a while, there is a perfect storm -- on television. The fans are clamoring for a sequel. Or perhaps it will be a prequel," Thomas Vitale, executive vice president of programming and original movies at Syfy, said in a statement. "What we can guarantee is that 'Sharknado 2' will be lots of fun. We'll be announcing more details very soon. But we didn't want our fans to worry they wouldn't get their fill of more shark fin, I mean, fun next year."
BEFORE YOU GO