Archaeologists in the U.K. were surprised this week when they opened a stone coffin at the Grey Friars site in Leicester where King Richard III was buried. While they may have expected to find ancient remains, what they uncovered was a smaller coffin nested inside.
The eight-man team from the University of Leicester opened the stone lid of the tomb only to discover a second coffin made of lead. The team must run further tests before it can completely open the double coffin at the Richard III site, but researchers already expect that someone of importance is buried within the secondary chamber.
(Story continues below.)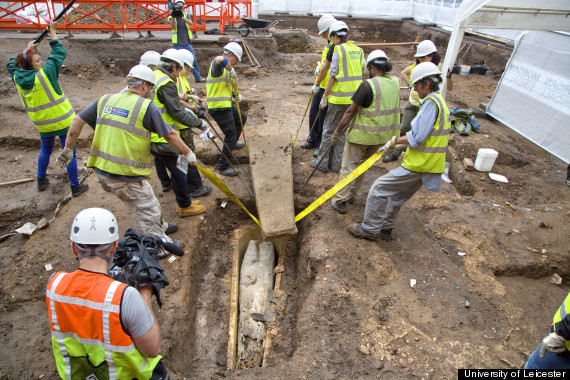 Archaeologists discovered a double coffin at the Richard III site when they opened a medieval stone burial chamber recently. (Photo courtesy of the University of Leicester)
"None of us in the team have ever seen a lead coffin within a stone coffin before," site director Mathew Morris of the University of Leicester Archaeological Services said in a written statement. "We will now need to work out how to open it safely, as we don't want to damage the contents when we are opening the lid."
The team announced their plans to pull the lid off the tomb -- the only intact stone coffin uncovered at the site -- earlier this month. At the time, Morris and his colleagues speculated that the coffin might contain the remains of a knight, such as Sir William de Moton of Peckleton, or one of two high-status friars.
The researchers decided to excavate the site after finding the remains of King Richard III in an unmarked grave beneath a parking lot last September. However, it wasn't until earlier this year that tests confirmed the identity of the skeleton as the English king who ruled from from 1483 to 1485.
Richard III's skeleton is set to be reburied with honor in a specially designed $1.5 million raised tomb within the Leicester Cathedral later this year.
See more photos of the team's double coffin finding at Richard III's burial site in the gallery below.
PHOTO GALLERY
Coffin Discovery At Richard III Site