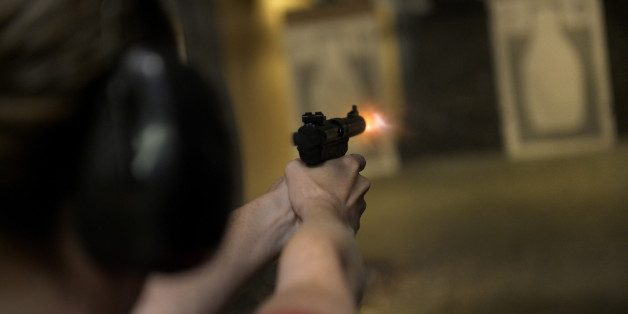 In a year that saw some of the nation's most strict gun control laws pass in Colorado, demand for the concealed-carry permit is soaring.
Between January and June of 2013, nearly 32,000 background checks were performed for concealed-carry permits by the Colorado Bureau of Investigation, according to The Associated Press. That's up 87 percent from 2012 which saw fewer than 17,000 checks processed for the concealed-carry permit.
The demand was so high that Arapahoe County Sheriff Grayson Robinson told The Denver Post that he had to hire more staff to keep up with the number of applications coming in.
The reasons for the surge of interest in concealed-carry permits is not entirely clear, but The Denver Post reports that for some it may be about personal protection and for others it may be a reaction against the gun control laws passed this year in the state.
Read The Denver Post's detailed report on the CBI data here.
Earlier in 2013, Colorado Gov. John Hickenlooper signed a package of gun control measures into law that included requiring universal background checks on all gun sales and transfers and a ban on ammunition magazines that can hold more than 15 rounds.
As Colorado lawmakers passed these sweeping gun control laws during the first quarter of the year, gun sales surged, breaking new records in the state.
From January to March there were 146,949 background checks processed for potential firearm buyers -- that's an increase of 69,628 checks from the same period just a year ago, according to the Colorado Bureau of Investigation data.
"The demand has been artificially created," State Sen. Morgan Carroll (D-Aurora), a sponsor of the universal background check bill, said. "Many groups have been telling people these laws will take guns away, which is not true."
It appears as if 2013 could be another banner year for gun sales in Colorado. According to data from the FBI's National Instant Criminal Background Check System (NICS), there were 414,838 background checks processed last year in Colorado -- and that was an increase of 23 percent, or 78,542 checks, from 2011. The largest volume of checks came in December at 53,453.
A background check generally takes minutes in Colorado, but during the end of December 2012 and into January 2013, the CBI's queue hovered around 10,000 checks, causing a wait time of more than nine days. That more than doubled the wait time just from earlier in December when gun buyers saw background checks taking 100 hours or more.
In 2012, there were also several unusual surges in gun sales in Colorado. A large spike in gun sales took place immediately following the tragic Aurora movie theater shooting that left 12 dead and nearly 60 wounded. Just days after the shooting, background checks for people wanting to purchase firearms in the state jumped more than 41 percent. And another sales spike occurred following the Jessica Ridgeway tragedy, according to the Colorado Bureau of Investigations.
Then, on Black Friday, the CBI set a new record in the state processing over 4,000 background checks on people purchasing firearms -- that's nearly 1,000 more checks than were run in 2011 when CBI set a single-day record of checking 3,031 gun buyers, according to 9News. So busy was the CBI that the flood of new applications crashed the system twice on Black Friday.
The tragic Sandy Hook shooting in Newtown, Conn., also caused a surge in gun sales in Colorado and across the nation. Fox31 reported that the AR-15, a military-style assault weapon that was used in the Sandy Hook shooting as well as the Aurora shooting, was virtually sold out in Colorado gun shops last December.
Although the spike in firearm sales has grown dramatically in Colorado, when compared to the rest of the nation, people were less enthusiastic about buying new guns at the end of 2012 in the Centennial State, as well as in Connecticut -- the homes of two of the nation's bloodiest mass shootings last year.
The perceived fear of new restrictions on guns driving firearm purchases is nothing new. Nationally, a gun sales bump was observed close to President Barack Obama's election in 2008 due to a fear that he would take people's guns away, as Newser reported. And gun sales spiked again following Obama's reelection in November 2012.
The Associated Press reports that there were nearly twice as many more background checks performed for gun purchases between November and December 2012 than during the same two months in 2011.
And as the debate over gun control intensified in Washington at the start of 2013, the FBI received a historically high number of gun background checks during that same period, according to CNN.
February marked the fourth month in a row that background checks topped 2 million -- though the number did drop from the prior month. Before that streak, the number of gun background checks per month had never exceeded 1.8 million
Analysts say a large portion of the increase in sales is due to demographic shifts. "The biggest new group of buyers now are senior citizens," explained Larry Hyatt, the owner of a North Carolina gun shop, to CNBC's Closing Bell. "Ten thousand baby boomers a day are turning 65. They can't run, they can't fight, they got to shoot."
BEFORE YOU GO
PHOTO GALLERY
Pivotal Moments In The Federal Gun Control Debate