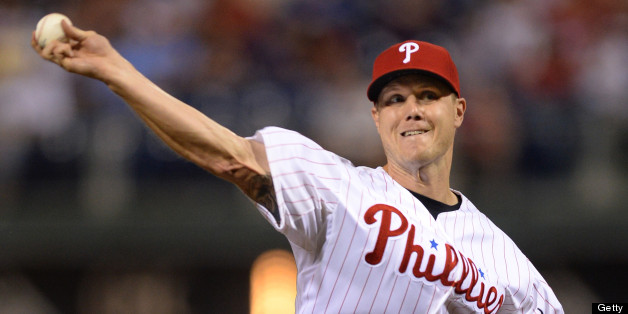 Jonathan Papelbon doesn't sound happy in Philadelphia.
Before the Phillies' eighth straight loss on Sunday putting them at seven games under .500, the five-time All-Star suggested to Todd Zolecki of MLB.com that the organization needs to make major changes.
"I definitely didn't come here for this," he said, per MLB.com. "It's going to take, in my opinion, a lot. And in my opinion, I think it's going to have to be something very similar to what the Red Sox went through a couple years ago. From top to bottom."
Although Papelbon doesn't seem to like the direction the Phillies are going in, he might be stuck in the City of Brotherly Love.
Jon Heyman of CBS Sports reported on Monday that a "rival executive" said, "I can't imagine anyone taking that contract of his and giving Philadelphia pieces back."
Papelbon signed a four-year, $50 million deal with Philadelphia in November of 2011.
The nine-year veteran might wind up staying in Philadelphia, but the Phillies are reportedly talking with other teams about ace Cliff Lee. Michael Young and Carlos Ruiz have also been named in trade rumors.
BEFORE YOU GO
PHOTO GALLERY
2013 MLB Season Highlights