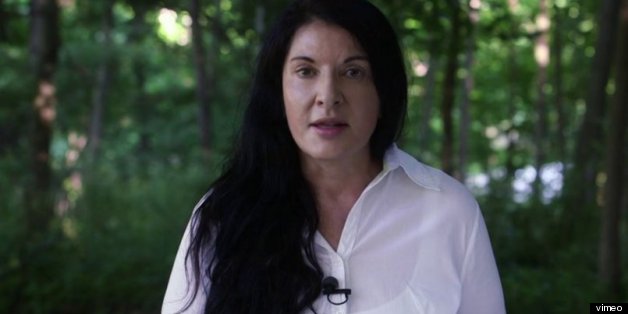 Ladies and gentlemen, the artist is presently asking you for donations. Performance art matriarch Marina Abramovic is raising funds for her very own Marina Abramovic Institute and has taken to Kickstarter to crowdsource some of the dough.
The campaign, which launched on Friday, is out to raise a whopping $600,000 to help turn Hudson, New York's former municipal theater into Abramovic's performance art mecca. Though this may seem like a hefty sum, the Kickstarter only comps a small percentage of the $20 million renovation.
The space will be devoted to education and performance, specifically in regards to long durational works such as Abramovic's 2010 "The Artist Is Present." According to Abramovic, said performance illuminated the public's "immense desire to slow down and connect to themselves and to one another in a live setting... MAI will be this space."
Thus far Marina has raised over $25,000 for the cause, with a cushion of 26 days to go.
While Ms. Abravmoic certainly has eternal chops for being one of the most badass artists of all time, her latest artistic endeavors have involved less self-inflicted pain and more celebrity cameos. Take, for example, this past month when Marina was spotted performance art-ing with Jay-Z and partying with Lady Gaga.
What do you think, readers? Would you donate to the grandmother of performance art herself? (Keep in mind, for $1000 you can gaze into Marina's eyes via webcam...)
If perchance you are undecided, we have great news. Marina is holding an AMA on reddit tomorrow at 12:30 PM EST! Bring your A game and we'll post the best responses in a roundup.
Yes, this seems about right. Marina Abramovic is doing a @reddit_AMA tomorrow at 9:30am PST. Ask. Her. Anything. pic.twitter.com/pF31a5H8rz

— east of borneo (@eastofborneo) July 29, 2013
Watch Abramovic pitch in the video above and take our poll to let us know where you fall on Marinagate. While pondering your position on the matter, check out people crying in the presence of Marina Abramovic below.
PHOTO GALLERY
People Crying In The Presence Of Marina Abramovic