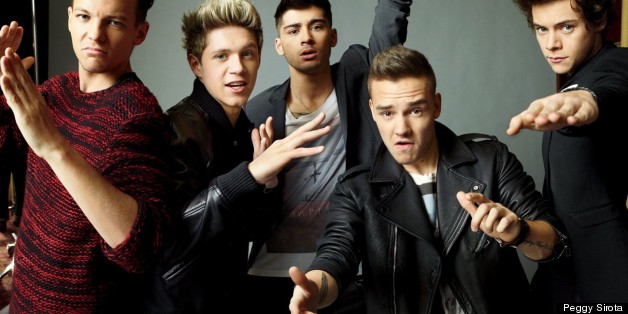 Hot off the heels of their Glamour cover, the boys of One Direction have officially taken over Teen Vogue's September issue. See below for an excerpt from their interview and photos from the shoot, then click over to TeenVogue.com to read more!
Louis on life on the road:
"It could definitely be a lonely job. I wouldn't be able to do this if I were on my own."
Morgan Spurlock on Filming 'This Is Us' with One Direction:
"It gets frustrating for them at times, because suddenly stuff gets printed that isn't even true. I saw an article that said, "Harry Styles demands Taylor Swift be taken out of the movie.' But by the time we started filming in January, they had already split up."
Zayn on how the guys keep in shape:
"We do a bit of boxing and mixed martial arts training. We have a guy on the road who's an expert. He's supercool."
Niall on why the band doesn't dance on stage:
"Most of the reason is that we can't. No one ever tried to make us."
Liam on girls:
"I like cute, quiet girls. My deal breaker is if they're a bit too in-your-face — then I just can't deal with that."
The issue hits newsstands on August 6th.
PHOTO GALLERY
One Direction Teen Vogue September 2013
More on TeenVogue.com
The 100 Best Backpacks for Back-to-School
Celebrities Are Going Bananas for Braids!
Tour Sea of Shoes Blogger Jane Aldridge's Sweet Dallas Digs
The Best Dressed College Students Across the Country