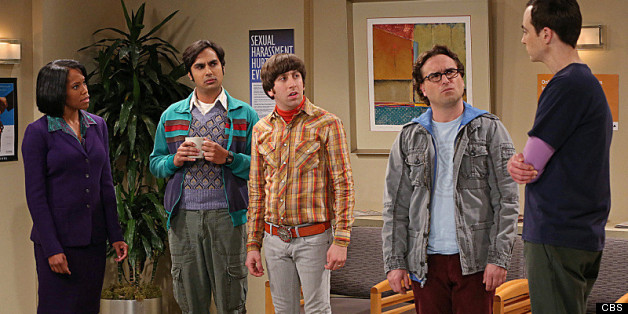 Regina King is returning to "The Big Bang Theory," a rep confirmed to The Huffington Post.
The "Southland" alumna will reprise her role as Mrs. Davis, the director of human resources at Caltech, where Sheldon (Jim Parsons), Leonard (Johnny Galecki), Howard (Simon Helberg) and Raj (Kunal Nayyar) work, in the CBS hit comedy's upcoming seventh season.
King last appeared on "The Big Bang Theory" when Sheldon wound up getting in trouble in a Season 6 episode of "The Big Bang Theory." He got upset when his assistant Alex (Margo Harshman) flirted with Leonard, so he confronted her about it, telling her she's unable to control her urges to reproduce, and even showed her offensive pictures of genitalia riddled with disease.
Cue King's Mrs. Davis, who called Sheldon into human resources, where he made things worse. "I meant that all women are slaves to their biological urges, ya know? Even you. You're a slave," Sheldon said. Later on in Season 6, the guys all tried to shower her with gifts after learning she was on the tenure committee, which got Sheldon into more hot water after making some arguably racist comments to her.
Who knows what Sheldon, Leonard, Howard and/or Raj will do in Season 7 that warrants another visit from King's character on "The Big Bang Theory," but we'll soon find out.
When asked about Season 7 guest stars, "Big Bang Theory's" leading lady Melissa Rauch told HuffPost TV, "It's hard to top the ones we've had."
"The Big Bang Theory" Season 7 premieres on Thursday, Sept. 26 at 8 p.m. with back-to-back episodes on CBS.
PHOTO GALLERY
'The Big Bang Theory'