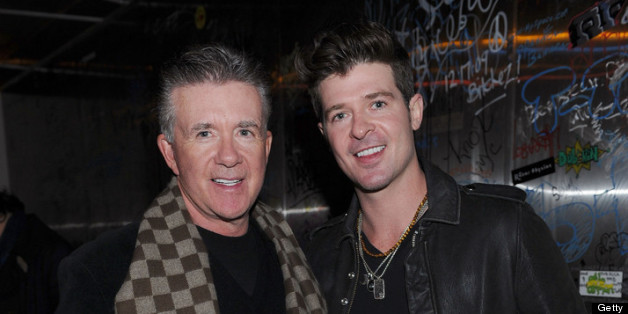 Alan Thicke couldn't be happier about his son's song of the summer.
The "Growing Pains" star spoke to People about Robin Thicke's "Blurred Lines" and said, "He has now projected himself into a stratosphere, into another level, having raised the bar, the family brand, to unimaginable heights."
Thicke earned a good-guy reputation from playing lovable yet firm dad Jason Seaver on the '80s hit TV show, but also has a successful career as a songwriter and composer. The father-son duo even co-wrote a song that appears on the album, "Ain't No Hat 4 That."
Now he jokes that he sometimes introduces himself as "Robin Thicke's father," Thicke told People. "And though I cannot quite relate to the incredible success and accomplishment of his work on that song, now I just feel [like], 'Okay, now I just have to share you with the rest of the world now ... You are barely mine anymore.'"
Despite the totally anti-Seaver music video, the younger Thicke recently told USA Today that when his 80-year-old grandfather heard the song he said, "Sonny boy, you've got a hit!"
We say to grandpa, the "Growing Pains"-"Blurred Lines" mashup is the real hit of this family.
BEFORE YOU GO
PHOTO GALLERY
Famous Father-And-Son Duos