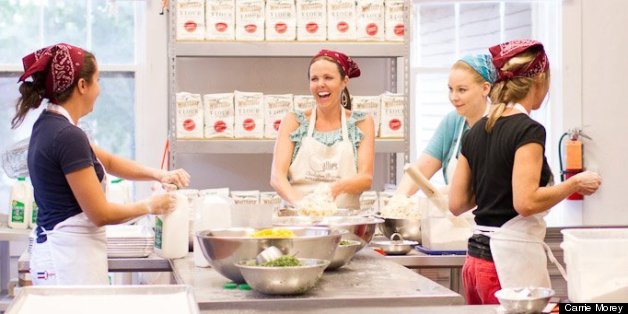 One of the reasons I started my website is that I wanted a place for women to come together and dream. We women need to know that we don't have to hang on to an old dream that has stopped nurturing us -- that there is always time to start a new dream. This week's story is about a woman who was looking for a new business opportunity after having her first child. Then she realized her mother had the million-dollar solution all along. -- Marlo, MarloThomas.com
By Lori Weiss
Carrie Morey grew up in true Southern style, alongside her grandmothers, learning to prepare everything from fried chicken and pork chops to an elegantly catered affair. Her mother, Callie, grew up in the same way and went on to become the caterer locals called on. And so no one was surprised when the teenager began helping out Mom on weekends, serving her family's extraordinary fare.
"I loved to cook," Carrie said, "but I didn't know how to make it into a career that would allow me to see my family. I knew if I were to become a chef, I'd be working every weekend and it was really important to me that when I got married and had kids, that I could be home with them. So I decided that cooking would be something that I did for family and friends and I'd find another way to make a living."
It wasn't long before the Southern belle found her way to New York City, and began working in sales. But she was sure to carry a little bit of homegrown hospitality with her wherever she went -- bringing the ham and cheese biscuits her mother had become known for to early morning meetings.
Carrie's clients loved both the breakfast treats and her Southern charm, but they weren't the only ones that were smitten. The brunette beauty quickly caught the eye of the man who was destined to become her husband, and soon after they married the couple decided to head back to Carrie's hometown of Charleston, South Carolina to raise a family.
"The only problem," she explained, "was that there weren't a lot of opportunities in Charleston eleven years ago. My Mom and I talked about opening a gourmet store, but we were concerned about the cost of starting a business. So I decided to work with my father as an investment advisor. I loved being with him every day, but I really wasn't passionate about the work. So when I got pregnant, I thought I'd just be a stay-at-home Mom, but after about six months I realized I had a lot of free time that I couldn't fill, and I was beginning to lose my mind."
And there Carrie was again, seeking solace in her family kitchen. As she nursed her daughter, Caroline, she watched her Mom pulling together the ingredients for her trademark biscuits. And then suddenly it hit her -- her mother was about to roll out the foundation for the perfect part-time business.
"I said, 'Mom, we should try to sell your biscuits to the markets in town. We could even sell them online.' She said, 'No one is going to buy these. Everyone makes their own!' But I saw how much everyone loved them in New York, and I knew baking biscuits twice a day was not something that happened in everyone's home! So I convinced her to let me take some of her biscuits around to shop owners in Charleston, but she was pretty skeptical."
Little did her mother know that what appeared to be a half baked idea was the beginning of what would become the family's bread and butter.
Article continues below slideshow
PHOTO GALLERY
Callie's Biscuits
"Everywhere I went," Carrie recalled, "people would say, 'We'd love a product like this! Everyone asks for these, but they're too labor intensive for us to make.' So Mom agreed to give it a try and we rented a catering kitchen one day a week. We'd spend 13 hours a day baking. Then I'd vacuum pack them at home and store them in my freezer. And as I shipped them out, I'd slip on a label that read "Callie's Charleston Biscuits."
And while the women thought they were plenty busy, supplying biscuits to a few local stores and to a small online audience -- a trusted adviser suggested that maybe they should attend the Fancy Food Show in New York, just to take a look around and see what might be possible.
"We didn't have a booth. We just planned to walk the floor and get a sense of things. But there were marketing seminars the day before and at one of them, a Food Network producer was talking about how to get publicity for your product. My mother told me to raise my hand and ask a question so she'd remember the pregnant Southern lady in the back of the room. So I asked if we could send them samples."
"The next morning we sent them out. I knew everyone would be doing that and I wanted to be the first to make a good impression."
And that's exactly what Carrie did. The producer called and said they'd devoured everything the two women had sent and they wanted to work with them. It wasn't long before a crew from the television show, "UnWrapped," was on their way to Charleston.
"We had about a month's notice," Carrie said, "and we realized we couldn't let them see that we were only baking one day a week in someone else's kitchen. We knew we needed to rent our own space, but no one wanted to rent to us! They just couldn't understand why we thought we could make biscuits and sell them on the internet!"
"We finally found an old house that used to be a speakeasy. It wasn't in the best part of town. There were actually bullet holes in the door. But we covered those up with curtains and made sure to only be there during the day. By the time the crew arrived, it looked like we'd been there forever."
Carrie was now eight and a half months pregnant and concerned about being able to fulfill orders at just the time she was due to give birth. But when she saw that they were scheduled to air up against an NFL play-off game, she relaxed, thinking a very limited audience would see the segment.
"Within five minutes of the time our segment aired, we had 47,000 page hits and our website crashed. I had to call people and explain that we made everything by hand and in my sweetest Southern voice, explain that we'd deliver as quickly as we could. Somehow, having to wait for them seemed to intrigue people even more!"
And if that weren't enough, the show continued to air, time and time again, in reruns. And their celebrity status continued to grow as well. Soon calls were coming in from Saveur Magazine and The Today Show.
"When we were on The Today Show," Carrie said, "the producers asked us to bring some accompaniments with the biscuits. So we figured out a way to pack Mom's crab dip in a way that it wouldn't spoil on the plane. Hoda took one bite and said, "This is the best crab dip I've ever put in my mouth.' We weren't even selling the crab dip, but the calls and emails began all over again."
Suddenly the business that had only required the women to work one day a week was beginning to demand more and more of their time.
"That's when Mom began to really struggle with this. She was handling most of the baking with the help of some college students, and I was in charge of sales and marketing. She had wanted to retire before we started this. So by the summer of 2009, she said, 'I'm going to let you do this on your own.' And she went off to enjoy some time in Napa Valley."
"Suddenly I was at the helm and I wasn't a master baker. So, that August, I rolled up my sleeves and learned everything there is to know about biscuit baking."
With her hands firmly in the dough, Carrie began to expand on her mother's original recipes. She added more varieties and made her way back to The Fancy Food Show where, once again, her Southern hospitality caught the eye of a very important suitor -- Fresh Market, a chain of supermarkets with 130 stores.
"I'd been pursuing them for four years," Carrie said, "but this time they said they had new buyers and they were going to place an order. I really didn't know what that meant. And then I got an email. There was no introduction. It was just a purchase order. It was for seven pallets. I didn't even know what a pallet was!"
She quickly learned that a pallet held 763 dozen biscuits, which meant Fresh Market was ordering 64,092 of them and three years later, they continue to be one of Carrie's best customers.
Today, Callie's Charleston Biscuits is closing in on the million dollar mark. They've moved from their bullet ridden building into a historic house with a wrap-around porch, surrounded by magnolia and pecan trees. They're selling to supermarket chains and gourmet grocers across the country and this October, Carrie will publish her first cookbook -- a collection of her family's Southern recipes.
"If I'm doing things right, my biggest accomplishment in life will to be a good role model for my three daughters. I hope I've shown them that you can have a balanced life. I could have grown this business a lot quicker, but I always remembered what my original goal was. I always want to be there for my family."
Add Marlo On Facebook:
Follow Marlo on Twitter:
Sign up to receive my email newsletter each week - It will keep you up-to-date on upcoming articles, Mondays with Marlo guests, videos, and more!